Grenfell Tower burning effigy backlash: Five arrested
London's Metropolitan Police said the men, who are between the ages of 19 and 55, had been deta..
London's Metropolitan Police said the men, who are between the ages of 19 and 55, had been detained on suspicion of a "public order offense" as part of an investigation into the video. The men handed themselves into South London police late Monday.The anonymous video, which has been widely circulated online, shows a group of people placing a cardboard model in the center of a bonfire as onlookers mimic the screams of those who lost their lives in the fire that engulfed the West London low-income housing tower block in June 2017. As the flames begin to set the model alight, bystanders can be heard shouting "Help me, help me," while one person mocks the stay-put policy of the London Fire Brigade, saying, "Don't worry, stay in your flat."UK Prime Minister Theresa May called the act "utterly unacceptable."In a statement, Metropolitan Police Commander Stuart Cundy appealed for information on the incident, adding that he is "appalled by the callous nature" of the video. "To mock that disaster in such a crude way is vile. I can't imagine the distress this video will undoubtedly cause to bereaved families and survivors," Cundy said. London Fire Commissioner Dany Cotton also voiced concern over the video, calling it appalling and adding that the actions of those involved "cannot be justified on any level." "To intentionally use and mock the Grenfell Tower fire in this way will cause deep pain and offense to the bereaved, survivors, the local community and all of the emergency services who will never forget that night," Cotton said.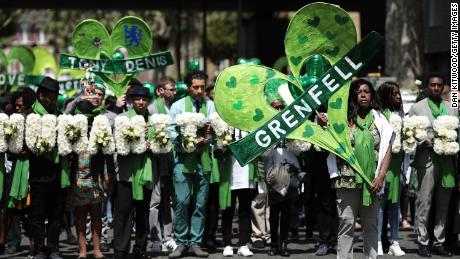 The model, labeled "Grenfell Tower," had paper cutouts of burning people at the windows of the apartment block.Several of the cutouts appeared to have been colored brown, and a St. George's Cross flag is seen waving in the background. Many of the victims were people of color and immigrants. The St. George's Cross flag is the flag of England, with the Union flag representing the United Kingdom.Justice for Grenfell, a community-led organization set up after the tragedy, described the incident as a "sickening act of hate," and called for a robust police investigation. "The content of the video, that includes a replica model of Grenfell Tower and the burning of effigies, has caused great alarm and distress. We are disgusted and shocked at the inhumanity and callousness of those involved in this video," the organization said. "This is clearly a hate crime and as a society we should never tolerate these types of blatant acts of hatred."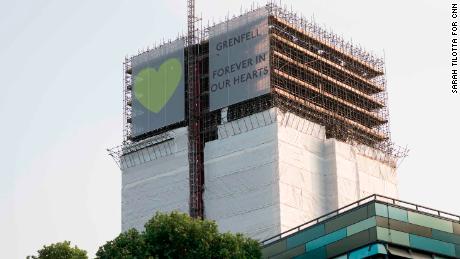 Mayor Sadiq Khan condemned the "sickening" video, while UK Home Secretary Sajid Javid called those involved in the "disgusting, shameful" incident a "disgrace." "The survivors of the Grenfell tragedy have acted with unbelievable dignity and deserve the utmost respect," Javid said. Echoing Javid's sentiments, Member of Parliament for Tottenham David Lammy tweeted:"Effigies are for hate-figures not innocent victims of a national scandal. These thugs may fly the St George's flag, but they disgrace our country."
Nic Robertson contributed to this story from London
Trump administration downgrades EU ambassador
Until they didn't.The European Union's ambassador to the US, David O'Sullivan, normal..
Until they didn't.The European Union's ambassador to the US, David O'Sullivan, normally among the first 30 foreign envoys to be seated, watched as almost every other ambassador to the US took a seat, leaving him among the last to be called. That, according to an EU official, was how the 28-member bloc learned that the Trump administration had downgraded its diplomatic status from a state to an international organization. The shift — a reversal of an Obama administration decision in 2016 — has riled Brussels, deepening a growing rift and appalling diplomats in Washington who decried the move as "amateur" and "unprofessional."
The latest irritant
"We learned of this when Ambassador O'Sullivan went to the funeral of President George Bush," an EU official told CNN, speaking anonymously to discuss the issue. "Every administration has the right to review this order but why now, two years in?" the official said, echoing comments from diplomats in Washington that the move seemed politically motivated. "What for us is remarkable is that we were not notified," the official continued. "For a diplomatic move like that, you should at least tell the organization involved."The State Department did not answer multiple questions — when or why the decision was made, by whom and why the Trump administration didn't bother notifying the EU orally or in writing. Instead, the agency sent CNN an automatic message citing the government shutdown for its failure to respond. The snub is just the latest irritant in US-EU relations since the Trump administration took office. Under President Donald Trump, the US has sparred with the EU on a number of issues, including trade, the Iran nuclear deal and support for the Paris climate agreement, and has failed to consult it on decisions that affect European security. More to the point, Trump and senior officials in his fiercely nationalistic administration have criticized the EU, pushed for Britain's departure from the group and publicly questioned its value, with Secretary of State Mike Pompeo encouraging members to assert their national sovereignty in a December speech. Speaking in Brussels, Belgium, in a strikingly undiplomatic speech, Pompeo asked whether the EU is "ensuring that the interests of countries and their citizens are placed before those of bureaucrats and Brussels." News reports of the speech noted that one audience member shouted, "Yes!" "This decision is just another in a series of failures to consult our closest allies," said Julianne Smith an adjunct fellow at the Center for a New American Security. "Europe wasn't consulted or notified about the administration's decision to leave the INF Treaty," with Russia, which immediately impacts European security. "Nor was it consulted or notified when the administration decided to leave both Syria and Afghanistan," Smith said. "Europeans have become accustomed to learning about US policy decisions in the newspaper. That's not how alliances work, and that's not how past administrations have treated allies. Europeans are growing tired of the constant surprises."
'Just rude'
The State Department's "Diplomatic Corps Order of Precedence and Dates of Presentation of Credentials" is used for protocol purposes, but it's also used by other organizations and embassies across Washington. The longer an ambassador is posted in Washington, the more senior they become. Being taken off the list effectively means they no longer receive many invitations — an essential part of doing business. The EU, which established its diplomatic corps in 2011, lobbied the Obama administration to have O'Sullivan be treated as the diplomatic representative of a nation-state and after a lengthy process, got the green light in 2016.Given the tension between the White House and the EU, and the timing — almost two years after the Trump administration took the White House — several diplomats told CNN the move seemed punitive. "It's clearly political and, frankly, amateur and unprofessional," said one diplomat from a non-EU country. "I'm putting it politely."Another diplomat noted that "there have been tensions for some time between the EU and the Trump administration. They've appeared slightly hostile at times to the EU. This is just rude."
Man admits to cyberattack on German politicians
Hundreds of politicians and public figures were among those affected by the attack, with personal da..
Hundreds of politicians and public figures were among those affected by the attack, with personal data and documents released online."During questioning, the defendant stated that he had acted alone in the data spying and unauthorized data releases," Ungefuk said.The suspect was arrested in the German state of Hesse on Sunday as part of a joint investigation by Frankfurt's Attorney General, the Central Office for the Suppression of Cybercrime (ZIT) and the Federal Criminal Investigation Office.''The investigations have so far revealed no evidence of any third-party involvement," reads a statement from Germany's federal crime office (BKA) released on Tuesday. "On his motivation, the defendant stated that he acted out of annoyance at public statements made by the politicians, journalists and public figures concerned." The man was released on Monday evening due to a lack of grounds for detention, according to the statement, but evidence such as computers is still being evaluated.In response to the data breach, Germany's interior minister Horst Seehofer told reporters that he would work to put safer measures in place to protect data in future, including a new IT security law. A draft bill could be presented to cabinet within a few months, Seehofer said during a press conference, but the exact timings are still to be confirmed. Seehofer reiterated that challenges would remain despite this new law.''We cannot promise absolute, total security, especially in the field of cyber security," he said.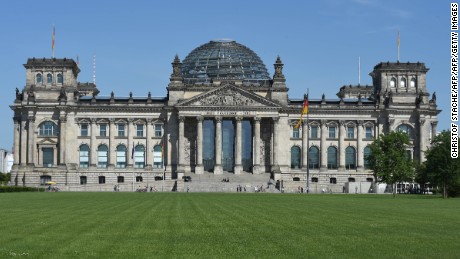 Details of the data breach were provided by government spokeswoman Martina Fietz on Friday.Fietz told reporters that German lawmakers at all levels, including from the European parliament, German parliament, and local politicians, had been affected. The data included credit card details, phone numbers and email addresses, one political party told CNN. Several German media outlets reported that German Chancellor Angela Merkel was affected by the breach, but Fietz said no sensitive information from Merkel's office had been published.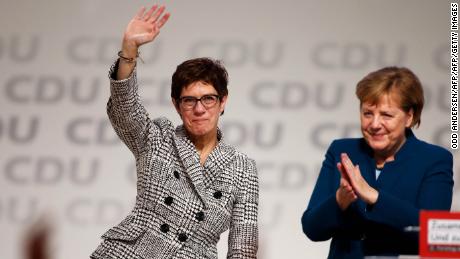 This is not the first time German politicians have been targeted.A cyberattack targeted parts of the German government network, including the foreign ministry, early last year, Reuters reported. And in 2015, pro-Russian hackers claimed responsibility for a series of cyberattacks that brought down government websites.On Friday, Fietz told reporters that it was "too early at this stage to compare this incident to that in previous years."
50,000 people hit the streets across France in new 'yellow vest' protests
About 50,000 people demonstrated, according to Interior Minister Christophe Castaner. Large gatherin..
About 50,000 people demonstrated, according to Interior Minister Christophe Castaner. Large gatherings were held in Paris, Bordeaux and Marseilles.In Paris, 3,500 people participated in protests on Saturday, much higher than the 800 who took to the streets last week, police said. At least 34 people were taken in for questioning in the capital city.Benjamin Griveaux, government spokesman, confirmed that he and his team had to evacuate his office in Paris after demonstrators broke into his courtyard by knocking down the door with construction machinery.Violence was reported in Montpellier and Troyes, where demonstrators tried to enter prefectures, and in Avignon, where some attempted to break into the Court of Justice. Violence was also reported in Beauvais, authorities said.The protests are named after the yellow high-visibility jackets French motorists must carry in their vehicles.They have morphed from dissent over rising gas prices and eco-taxes into a broader demonstration against President Emmanuel Macron and his government, and tensions between the metropolitan elite and rural poor.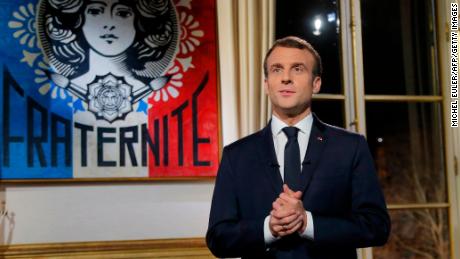 "I call on everybody to be responsible and respect the rule of law," Castaner said on Twitter.Castaner said he gathered local police officials for a video conference "as tensions and violence have been witnessed in Paris and in a few other cities."Last weekend, an estimated 32,000 protesters took to the streets. There have been some protests since the year began but mostly they have been modest demonstrations on roads and roundabouts.Saturday's protests are the first big gatherings of the year.
A government under pressure
In his New Year's address, Macron made reference to the "yellow vest" movement without naming it.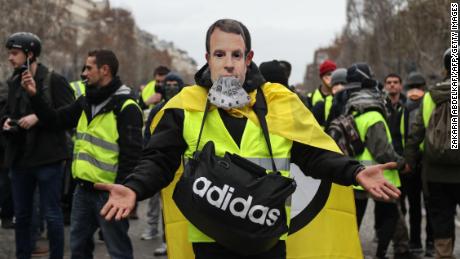 He acknowledged anger against injustice but said hateful speech would not be tolerated. Macron said France "wants to build a better future" while imploring people to respect each other.In December, Macron pledged to increase the minimum wage and get rid of new pension taxes, a move that didn't appease the anger of some of the protesters.Ten people have died in connection with the protests, with most deaths taking place in traffic accidents related to blockades in November and December.
CNN's Katie Polglase wrote from London while Joe Sterling wrote from Atlanta.