Can AI create a masterpiece?
This story is part of "Smart Creativity," a series exploring the intersection between high-concept d..
This story is part of "Smart Creativity," a series exploring the intersection between high-concept design and advanced technology.
"Edmond de Belamy" has made history as the first work of art produced by artificial intelligence to be sold at auction.
The slightly blurry canvas print, which has been likened to works by the Old Masters, sold Thursday for $432,500 — dramatically exceeding its original estimate of $7,000-$10,000– at a Christie's auction in New York.
"Christie's continually stays attuned to changes in the art market and how technology can impact the creation and consumption of art," Richard Lloyd, international head of prints and multiples at Christie's, said in a statement before the auction.
"AI has already been incorporated as a tool by contemporary artists and as this technology further develops, we are excited to participate in these continued conversations. To best engage in the dialogue, we are offering a public platform to exhibit an artwork that has entirely been realized by an algorithm."
Obvious co-founder Pierre Fautrel stands beside "Edmond de Belamy" before it hits the auction block at Christie's in New York. Credit: TIMOTHY A. CLARY/AFP/AFP/Getty Images
While the print is signed "min G max D x [log (D(x))] + z [log(1 – D (G(z)))]" after a section of the algorithm's code, it was conceived by Obvious, a Paris-based trio fascinated by the artistic potential of artificial intelligence and machine learning.
Though none come from an art background, friends Pierre Fautrel, Hugo Caselles-Dupré and Gauthier Vernier first started experimenting with art and machine learning last year.
"We saw algorithms were capable of creating new images, and we were astonished by the potential they had," Vernier said.
To produce "Edmond de Belamy" and the 10 other portraits in the "La Famille de Belamy" series, Obvious fed a two-part algorithm 15,000 images of portraits from different time periods. After reviewing these submissions, the first part of the algorithm began generating its own portraits, trying to create original works that could pass as man-made.
Can artificial intelligence produce a masterpiece?
"All the data has similarities, so common features. So, first algorithm creates new examples of those images and tries to fool the second algorithm into thinking that those pictures created are, actually, real portraits, so human-made," Vernier said.
"We're looking at these portraits the same way a painter would do it. Like walking in a gallery, taking some inspiration. Except that we feed this inspiration to the algorithm, and the algorithm is the part that does the visual creation."

"Le Comte de Belamy" is one of 10 portraits that comprise Obvious' "La Famille de Belamy" series. Credit: Courtesy Obvious
While inventive, this approach hasn't been without critics. Many working in the field of art and artificial intelligence criticized or dismissed Obvious' inclusion in the Christie's sale since the type of algorithm used — generative adversarial networks, or GANs — have been used by artists for years.
Speaking to The New York Times ahead of the auction, Mario Klingemann, an artist known for his work with machine learning, likened "Edmond de Belamy" to "a connect-the-dots children's painting."
But in light of the auction result, it's likely Obvious will remain undaunted by naysayers. Their work has raised interesting points around the nature of human creation — and clearly caught the attention of the world's collectors.
"I think (artificial intelligence) has its place in the art world because it tries to replicate what any artist would do, like trying to create from what he knows," Vernier said. "It forces you to try to understand your own creativity and how you would be able to replicate it."
Watch the video above to find out more about Obvious and how technology informs the trio's practice.
Brexit deal on knife-edge as Theresa May awaits Cabinet verdict
Ministers were gathering in Downing Street for a crucial meeting at which May will learn whether she..
Ministers were gathering in Downing Street for a crucial meeting at which May will learn whether she has done enough to persuade them to back her, in the face of a clamor of dissent from opponents of the deal. May and her top aides spent much of Tuesday evening in a succession of one-on-one meetings with Cabinet members, in an intensive effort to sell the deal to skeptical ministers.As ministers trooped into Downing Street, opponents of the deal — many within her own party — urged them to kill it off.A sign of the peril faced by May came at Prime Minister's Questions in the House of Commons when one of her own MPs, Peter Bone, accused her of "not delivering the Brexit people voted for." In a moment of high drama, Bone said May would "lose the support of many Conservative MPs and millions of voters across the country."The opposition Labour Party leader Jeremy Corbyn, laid into the PM's deal. "After two years of bungled negotiations, from what we know of the government's deal, it's a failure in its own terms," Corbyn said, repeatedly describing the negotiations as "shambolic." He slammed May for offering a choice between a "botched deal and no deal."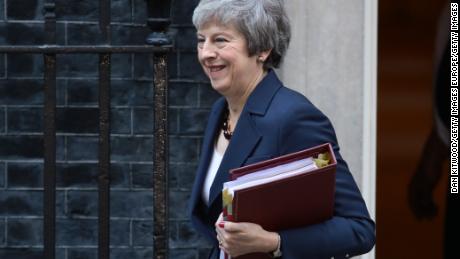 May was bullish, accusing Corbyn of wanting to block Brexit and said she was confident the deal would bring the UK "significantly closer to delivering what the British people voted for in the referendum."Chief among hardliners' concerns is that the agreement will tie the UK to the EU's customs union and parts of the single market free-trade area for years to come, without any say in how the bloc is run. Boris Johnson, a leading Brexiteer who quit Mays Cabinet earlier this year, led the charge. "It is vassal state stuff," he told ITV News on Tuesday evening. "Chuck it out."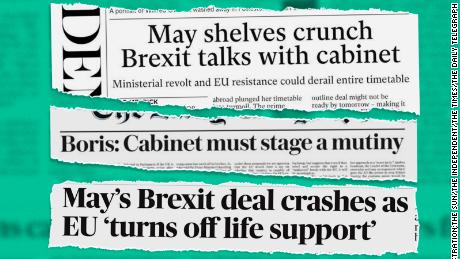 May's Cabinet is deeply divided between hardline Brexit supporters and others who voted to remain in the EU. Downing Street hopes that she has done enough to convince her senior ministers that the draft text fulfills the result of the 2016 referendum and prevent a mass walkout that would imperil the deal.But even if she can get it through her Cabinet, there's no guarantee that she can get it through parliament. The Democratic Unionist Party, whose 10 MPs prop up May's minority government, said it would not support it. Sammy Wilson, the party's Brexit spokesman, wrote on Twitter: "All of the great and the good who were rolled out during the #EURef will be rolled out again in the coming weeks to try and get us to fall into line. We are clear — we will not be voting for this humiliation!"
Deadlock broken
The conclusion of a draft deal with the European Union on Tuesday was a significant moment for May, ending months of deadlock.Senior officials in the UK and the rest of the EU had issued dire warnings of a no-deal scenario that could devastate the British economy.
But May's victory is only the beginning of what is expected to be a protracted and painful political process. Lawmakers in the UK won the right to a "meaningful vote," which gives them the chance to accept or reject the Brexit deal. They must also vote on the legislation that turns the text agreed with the European Union into UK law.Opponents take particular issue with the part of the agreement that deals with the border between Ireland, which remains in the EU, and Northern Ireland, which is part of the EU. Critics say the border agreement would, at least temporarily, tie the UK to the EU's trading rules without a way out."Without a clean exit clause, the United Kingdom would be handcuffed to the European Union with Brussels holding the keys," said DUP leader Arlene Foster.Ireland's Prime Minister Leo Varadkar said Wednesday that he wanted the Irish parliament to vote on the text of the Brexit deal, providing another potential obstacle for May in getting her deal across the line.If the deal fails to jump the many political hurdles ahead, it would almost certainly be the end of May's career and Britain would plunge again into political chaos.While the British government and media have taken the Brexit deal as a breakthrough, EU officials have urged caution, pointing to the long political process that lies ahead.The Cabinet meeting, scheduled for after Prime Minister's questions, will coincide with a gathering of ambassadors from the other 27 EU member nations in Brussels, who will also discuss the draft deal.
CNN's Stephanie Halasz, Erin McLaughlin, Bianca Nobilo and Peter Taggart contributed to this report.
UK PM: Brexit deal 'immensely difficult'
Addressing leaders of London's financial district, where anxiety is mounting about the economic..
Addressing leaders of London's financial district, where anxiety is mounting about the economic impact of a no-deal Brexit, May said that an agreement would not come "at any cost.""Any deal must ensure we take back control of our laws, borders and money," she said. "It must secure the ability to strike new trade deals around the world."Michel Barnier, the chief European Union negotiator, earlier that day told European ministers negotiations had run into the early hours of Monday morning.Talks were so intense and protracted that Barnier canceled a planned press conference Monday so he could continue thrashing out a deal, a European diplomat told CNN.A key sticking point is the Irish border. Currently, the UK and Ireland are both part of the EU single market, so goods passing between the two regions do not need customs inspections.Both sides want to avoid a "hard border" between Northern Ireland and Ireland which would require infrastructure and customs checks, but cannot agree on the terms.If no agreement is made, a backstop will come into effect in 2020 which will effectively see Northern Ireland remain in the EU customs union.Both EU and British officials declined to comment on reports that European Council President Donald Tusk had given May a deadline of Wednesday night to agree a deal.Once Barnier indicates that sufficient progress has been made towards a deal, it will take 10 days to two weeks to call a summit to approve it, the officials said.
Ticking time bomb
May has been scrambling to finalize a deal by the end of November in order to put a "meaningful final vote" before MPs ahead of Christmas. Time is ticking. The UK is scheduled to leave the EU on March 29, 2019.Earlier this week, Jo Johnson resigned as transport minister and called for a second referendum on Brexit."We are barreling towards an incoherent Brexit that is going to leave us trapped in a subordinate relationship to the EU, with no say over the rules that will govern huge swathes of our economy,"Johnson said in a video statement posted online. After nearly 18 months of grueling negotiations, May is widely reported to be nearing a deal that would tie Britain to EU rules and regulations for a transition period. The prime minister has flatly rejected calls for a second Brexit vote. "The referendum in 2016 was the biggest democratic exercise in this country's history," her spokesperson told CNN. "We will not under any circumstances have a second referendum."
CNN's Laura Smith-Spark and Rob North contributed to this report.
White House: Trump discussed key issues with Putin, Macron and Merkel
"Today at lunch, the President sat with President Macron, Chancellor Merkel, and President Putin, an..
"Today at lunch, the President sat with President Macron, Chancellor Merkel, and President Putin, and many other world leaders," Sanders told reporters traveling with the President. "The leaders discussed a variety of issues, including the INF (nuclear treaty), Syria, trade, the situation in Saudi Arabia, sanctions, Afghanistan, China and North Korea."Sanders said, "They had very good and productive discussions during the two-hour lunch," which was held at the official residence of the French President. Russian state news agencies reported a brief exchange between Trump and Putin at Sunday's armistice centenary ceremonies in Paris. RIA Novosti reported Putin as replying in the affirmative when asked if he was able to talk with Trump in a meeting at the Élysée Palace with other foreign leaders.Asked how the conversation went, according to RIA, the Russian President replied: "Well."Kremlin spokesperson Dmitry Peskov said the two leaders were able to exchange pleasantries during the working lunch, Russian state agencies reported.