Six arrested in France over suspected far-right plot to attack Macron
France's intelligence agency, the DGSI, said the six people were arrested in three separate reg..
France's intelligence agency, the DGSI, said the six people were arrested in three separate regions: Isère, southeast of Lyon; Moselle, on the border with Germany and Luxembourg; and Ille-et-Vilaine, in the northwest near the city of Rennes.The suspects include five men and a woman between the ages of 22 and 62, a judicial source close to the probe told CNN. All have connections to the far-right, the Interior Ministry said in a statement. "The investigation is looking into an imprecise and loosely formed plan for violent action against the President of the Republic," said the judicial source, who declined to be named discussing an ongoing investigation. The arrests come after Macron warned in an interview with Le Courrier Picard on Sunday of the rising threat of the far-right movement, adding that complacency in the early 1900s paved the way for Hitler's rise in Germany and Mussolini in Italy.According to Reuters, France's far-right euroskeptic National Rally — formerly known as the National Front — is leading the polls against Macron ahead of the European Parliament election in May. The party is led by Marine Le Pen.
Far right extremism
France's Interior Minister Christophe Castaner said Monday that the country remained "on alert" over threats posed by "extremist networks both on the right and left, which are quite active in our country," according to France 24.In June, 10 members of a far-right group called Action des Forces Operationnelles (Operational Forces Action) were charged in connection with an alleged plot to attack Muslims. And in October 2017, anti-terrorism police arrested 10 people reportedly over alleged plans to attack mosques, migrants and leftist politician Jean-Luc Melenchon. Macron has also been targeted before. During the Bastille Day celebrations in July 2017, a 23-year-old was charged over a plot to assassinate the President.Investigators said the man planned to attack Macron on July 14, during a parade on the Champs-Élysées in Paris, where US President Donald Trump was set to be a guest of honor. A self-described far-right nationalist, the man told police he wanted to make a political statement by killing Macron, CNN affiliate BFMTV reported.The six arrests on Tuesday come as France begins to commemorate the centenary of the World War I armistice.
CNN's Bianca Britton and Arnaud Siad contributed to this story from London and Helen Regan contributed from Hong Kong.
48 hours of farce and fury reignite stagnant Brexit debate
Possibly that farce is more interesting than static fear, and that we live in a world of least bad o..
Possibly that farce is more interesting than static fear, and that we live in a world of least bad options.Brexit, as ever, is at an impasse. Rewind to Wednesday evening and that seems an absurd thing to say. British Prime Minister Theresa May had reached an agreement with the European Union on its withdrawal from the bloc and her Cabinet, after hours of tense discussion, had given her the nod to finalize that deal and take it to Parliament. Brexit, it seemed, was in its final stretch.Then Thursday happened. At 8:50 a.m., May's Brexit Secretary Dominic Raab quit the Cabinet in protest over her deal, triggering the resignation of several other government ministers. The Prime Minister looked weaker by the minute. May then had to face a grueling three-hour session in the House of Commons, where MP after MP from all sides of the political divide said they couldn't support her Brexit plan. It was more than an hour before a single MP voiced support for her.Hot on the heels of this indignity, rumors began to swirl that her Premiership was not long for this world, as rabble-rousing backbenchers publicly declared that they had lost confidence in her leadership and were actively seeking to remove her from power.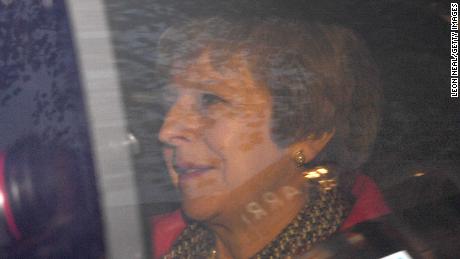 As she announced a press conference for 5 p.m., the media scrambled to dust off their political obituaries, in the anticipation that she might throw in the towel. But she didn't; instead she vowed to push her deal through Parliament.At the time of writing, May is still Prime Minister of the United Kingdom of Great Britain and Northern Ireland. Sure, the prospect of a vote of no confidence in her leadership looms large, but despite 48 hours of high drama, very little has changed.May still has a deal with the EU that everyone seems to hate. As it stands, it looks like she can't get that deal through Parliament, but is adamant she can win over MPs. Members of her own party still want to see her permanently evicted from 10 Downing Street, though this veers from a dead cert to a joke every 10 minutes or so. And the EU remains concerned, quiet, and adamant that it has given the UK every concession it can.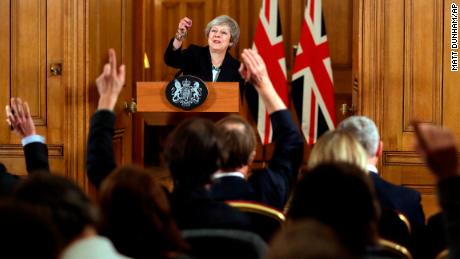 At the center of this mess is the fact that Theresa May has come to personify a deal that very few UK politicians can get on board with. Those who want to scrap the whole thing and remain part of the EU are ignoring the fact that this is not a decision the UK can make unilaterally.The Brexiteers who think that May has capitulated and given too much to Brussels willfully overlook the fact that there is hardly any time left to renegotiate anything. The withdrawal agreement is done — this was a negotiation between 28 nations; one cannot suddenly reopen it (though there is some room to maneuver on the associated political declaration around a future partnership).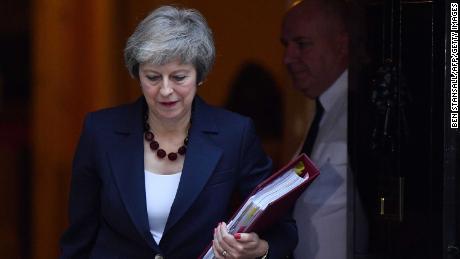 And then there are those who think walking away is an option that wouldn't cause economic chaos, food shortages and present a very real public health risk.Every position in-between comes with caveats that ultimately hinge on the key question: do you want an independent trade policy or a border between the Republic of Ireland and Northern Ireland — something both the UK and the EU have committed to avoid at all costs from the start.May, it seems, remains the only credible candidate with the only credible plan. Those who claim the whole thing can be easily torn up and renegotiated, or scrapped altogether, live in a fantasy world.So what was all that about farce and fear? Ah yes. At the Cabinet meeting which took place earlier this week, Matthew Hancock, the UK's Health Secretary, said that there was a real possibility that people could die in the event of a no deal.We've heard about queues of lorries at ports preventing food and medical supplies from entering the country and have seen what happens to the pound every time the Brexit process hits a stumbling block.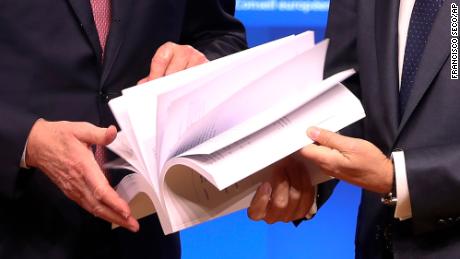 But that's not as fun as the political theater of watching someone's leadership disintegrate right before your eyes.Brexit is boring: lots of technical chat about regulatory alignment, financial services and fish.You know what's more fun than fish? Speculating whether a Cabinet Minister is sending a coded message to the Prime Minister through his choice of breakfast before resigning from her government. That, or watching the entirely hypothetical number of letters of no confidence in May add up, only for the chief assassin to sheepishly concede that he might not have the numbers after all.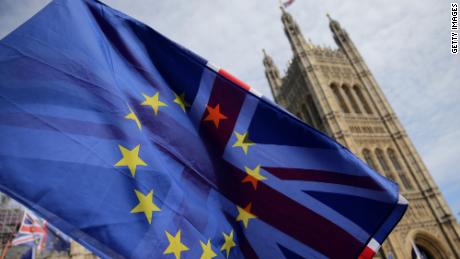 These past 48 hours have provided the most entertaining days of Brexit coverage in some time. It makes better TV and better news copy. And I'd wager, for politicians, bored of having the life squeezed out of them by an insoluble problem like Brexit, such a day of high drama makes it all seem worth getting out of bed for.And that's part of the problem. The public, the media and, seemingly, so many of the political class, are largely disinterested in where this all ends. That's despite Brexit being the single most important thing to have happened to the UK since World War II.How MPs vote when the deal finally comes to the House of Commons will dramatically affect the lives of more than 66 million people inside the United Kingdom and millions more elsewhere.It's a shame that listening to the detail surrounding it is like mainlining morphine.
Brexit deal on knife-edge as Theresa May awaits Cabinet verdict
Ministers were gathering in Downing Street for a crucial meeting at which May will learn whether she..
Ministers were gathering in Downing Street for a crucial meeting at which May will learn whether she has done enough to persuade them to back her, in the face of a clamor of dissent from opponents of the deal. May and her top aides spent much of Tuesday evening in a succession of one-on-one meetings with Cabinet members, in an intensive effort to sell the deal to skeptical ministers.As ministers trooped into Downing Street, opponents of the deal — many within her own party — urged them to kill it off.A sign of the peril faced by May came at Prime Minister's Questions in the House of Commons when one of her own MPs, Peter Bone, accused her of "not delivering the Brexit people voted for." In a moment of high drama, Bone said May would "lose the support of many Conservative MPs and millions of voters across the country."The opposition Labour Party leader Jeremy Corbyn, laid into the PM's deal. "After two years of bungled negotiations, from what we know of the government's deal, it's a failure in its own terms," Corbyn said, repeatedly describing the negotiations as "shambolic." He slammed May for offering a choice between a "botched deal and no deal."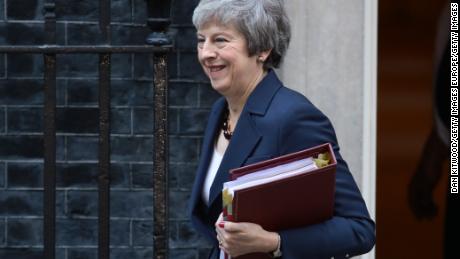 May was bullish, accusing Corbyn of wanting to block Brexit and said she was confident the deal would bring the UK "significantly closer to delivering what the British people voted for in the referendum."Chief among hardliners' concerns is that the agreement will tie the UK to the EU's customs union and parts of the single market free-trade area for years to come, without any say in how the bloc is run. Boris Johnson, a leading Brexiteer who quit Mays Cabinet earlier this year, led the charge. "It is vassal state stuff," he told ITV News on Tuesday evening. "Chuck it out."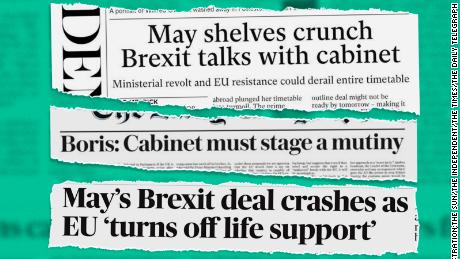 May's Cabinet is deeply divided between hardline Brexit supporters and others who voted to remain in the EU. Downing Street hopes that she has done enough to convince her senior ministers that the draft text fulfills the result of the 2016 referendum and prevent a mass walkout that would imperil the deal.But even if she can get it through her Cabinet, there's no guarantee that she can get it through parliament. The Democratic Unionist Party, whose 10 MPs prop up May's minority government, said it would not support it. Sammy Wilson, the party's Brexit spokesman, wrote on Twitter: "All of the great and the good who were rolled out during the #EURef will be rolled out again in the coming weeks to try and get us to fall into line. We are clear — we will not be voting for this humiliation!"
Deadlock broken
The conclusion of a draft deal with the European Union on Tuesday was a significant moment for May, ending months of deadlock.Senior officials in the UK and the rest of the EU had issued dire warnings of a no-deal scenario that could devastate the British economy.
But May's victory is only the beginning of what is expected to be a protracted and painful political process. Lawmakers in the UK won the right to a "meaningful vote," which gives them the chance to accept or reject the Brexit deal. They must also vote on the legislation that turns the text agreed with the European Union into UK law.Opponents take particular issue with the part of the agreement that deals with the border between Ireland, which remains in the EU, and Northern Ireland, which is part of the EU. Critics say the border agreement would, at least temporarily, tie the UK to the EU's trading rules without a way out."Without a clean exit clause, the United Kingdom would be handcuffed to the European Union with Brussels holding the keys," said DUP leader Arlene Foster.Ireland's Prime Minister Leo Varadkar said Wednesday that he wanted the Irish parliament to vote on the text of the Brexit deal, providing another potential obstacle for May in getting her deal across the line.If the deal fails to jump the many political hurdles ahead, it would almost certainly be the end of May's career and Britain would plunge again into political chaos.While the British government and media have taken the Brexit deal as a breakthrough, EU officials have urged caution, pointing to the long political process that lies ahead.The Cabinet meeting, scheduled for after Prime Minister's questions, will coincide with a gathering of ambassadors from the other 27 EU member nations in Brussels, who will also discuss the draft deal.
CNN's Stephanie Halasz, Erin McLaughlin, Bianca Nobilo and Peter Taggart contributed to this report.
UK PM: Brexit deal 'immensely difficult'
Addressing leaders of London's financial district, where anxiety is mounting about the economic..
Addressing leaders of London's financial district, where anxiety is mounting about the economic impact of a no-deal Brexit, May said that an agreement would not come "at any cost.""Any deal must ensure we take back control of our laws, borders and money," she said. "It must secure the ability to strike new trade deals around the world."Michel Barnier, the chief European Union negotiator, earlier that day told European ministers negotiations had run into the early hours of Monday morning.Talks were so intense and protracted that Barnier canceled a planned press conference Monday so he could continue thrashing out a deal, a European diplomat told CNN.A key sticking point is the Irish border. Currently, the UK and Ireland are both part of the EU single market, so goods passing between the two regions do not need customs inspections.Both sides want to avoid a "hard border" between Northern Ireland and Ireland which would require infrastructure and customs checks, but cannot agree on the terms.If no agreement is made, a backstop will come into effect in 2020 which will effectively see Northern Ireland remain in the EU customs union.Both EU and British officials declined to comment on reports that European Council President Donald Tusk had given May a deadline of Wednesday night to agree a deal.Once Barnier indicates that sufficient progress has been made towards a deal, it will take 10 days to two weeks to call a summit to approve it, the officials said.
Ticking time bomb
May has been scrambling to finalize a deal by the end of November in order to put a "meaningful final vote" before MPs ahead of Christmas. Time is ticking. The UK is scheduled to leave the EU on March 29, 2019.Earlier this week, Jo Johnson resigned as transport minister and called for a second referendum on Brexit."We are barreling towards an incoherent Brexit that is going to leave us trapped in a subordinate relationship to the EU, with no say over the rules that will govern huge swathes of our economy,"Johnson said in a video statement posted online. After nearly 18 months of grueling negotiations, May is widely reported to be nearing a deal that would tie Britain to EU rules and regulations for a transition period. The prime minister has flatly rejected calls for a second Brexit vote. "The referendum in 2016 was the biggest democratic exercise in this country's history," her spokesperson told CNN. "We will not under any circumstances have a second referendum."
CNN's Laura Smith-Spark and Rob North contributed to this report.