Japanese TV cancels BTS show over band member's A-bomb shirt
A Japanese broadcaster canceled a live TV appearance of the Korean band BTS after a photo went viral..
A Japanese broadcaster canceled a live TV appearance of the Korean band BTS after a photo went viral of a band member wearing a T-shirt showing an atomic bombing juxtaposed with the celebration of Korea's liberation from Japan after World War II.
Japanese social media was filled with chatter over the photo of Jimin wearing the shirt with an image of a mushroom cloud with the English words "patriotism" and "Korea."
TV Asahi said it had talked with the band's recording company to try to learn why he wore the T-shirt. The broadcaster's statement also apologized to viewers who had looked forward to the band's appearance, which had been scheduled for Friday.
Company spokesman Shinya Matsuki declined further comment.
Universal Music said it will continue to support BTS but confirmed their appearance on the live music show "Music Station" was canceled.
South Korean K-pop and movie stars are extremely popular in Japan, sometimes in stark contrast to the controversy and hostility than can mark other aspects of the two nation's ties due to Japan's occupation of the Korean Peninsula in the early 20th century until the end of World War II.
Some Japanese fans of the band expressed disgust on Twitter that their show was canceled over a T-shirt.
The seven-member BTS has collaborated with Japanese American DJ and musical artist Steve Aoki and has reached No. 1 on the Billboard chart.
———
Yuri Kageyama is on Twitter at https://twitter.com/yurikageyama
On Instagram at https://www.instagram.com/yurikageyama/?hl=en
Director 'an idiot' for flashing at stars including Cameron Diaz
Green Book director Peter Farrelly has apologised and called himself an "idiot" after a story emerge..
Green Book director Peter Farrelly has apologised and called himself an "idiot" after a story emerged in which stars told how he liked to flash his genitals as a joke.
New York Magazine's The Cut published excerpts of a story which ran in Newsweek in 1998, which said Farrelly and his brother and frequent film-making partner Bobby Farrelly would "prank" colleagues.
The Farrelly brothers are best known for comedies including Dumb and Dumber, Shallow Hal, Kingpin and There's Something About Mary.
Those who spoke to Newsweek about being tricked included film executive Tom Rothman and actress Cameron Diaz, who was starring in There's Something About Mary at the time.
Both treated the incidents as a prank, The Cut article notes.
Peter Farrelly has had something of a reinvention with last year's Green Book, a comedy-drama about racism set in the Deep South in the 1960s, which he directed on his own.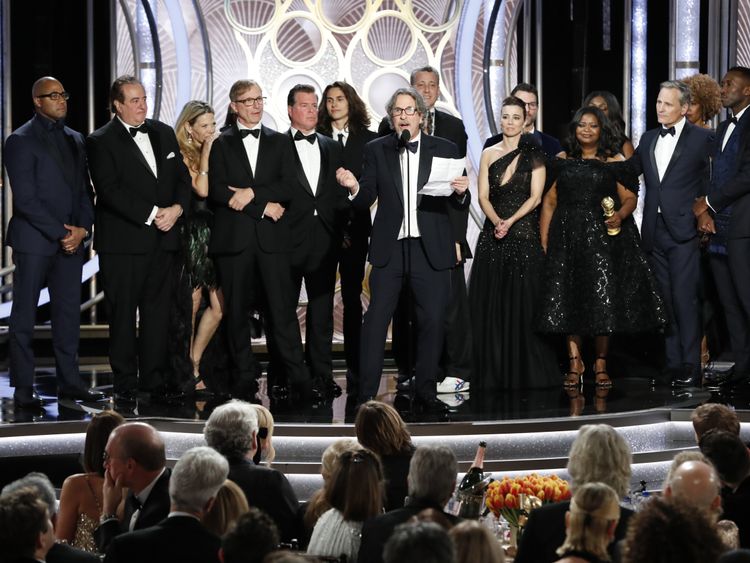 The film stars Mahershala Ali and Viggo Mortensen as a black concert pianist and his Italian-American driver who become unlikely friends, and won a Golden Globe at the weekend for best musical or comedy film, as well as the awards for best supporting actor for Ali and best screenplay.
More from Ents & Arts
Following The Cut's article, Farrelly issued a statement through his publicists saying the stories were true.
"I was an idiot," he said. "I did this decades ago and I thought I was being funny and the truth is I'm embarrassed and it makes me cringe now. I'm deeply sorry."
(more…)
Gary Oldman surprises fans as he narrates David Bowie app on late singers birthday
To view this video please enable JavaScript, and consider upgrading to a web browser that ..
He was good friends with the late singer so it only makes sense that Gary Oldman features on the new David Bowie app.
To coincide with what would have been Bowies 72nd birthday and third death anniversary, the David Bowie Is app arrived earlier this week giving fans an interactive exhibition into the life and stellar career of the iconic British singer, who died on 10 January 2016.
Fans can navigate their way through hundreds of Bowies earliest stage outfits, videos, handwritten lyrics and diary entries in 360-degree detail. Its a digital adaptation of the critically-acclaimed V&A Museum exhibition, which launched in 2013 and toured around the world before closing last summer.
But perhaps one of the top highlights is Oldman narrating a visual of Bowies 1974 Diamond Dogs Tour. In his voiceover, the Oscar-winning actor says the tour featured contemporary music and theatre several years ahead of its time and a stellar lineup of theatrical collaborators quite unlike that of any previous rock tour.
Advertisement Advertisement
The historic tour boasted a dystopian cityscape theme, inspired by George Orwells classic novel Nineteen Eighty-Four.
On his involvement with the project, Oldman said in a statement: This brings the amazing David Bowie Is exhibition to a wider audience. Its great that his fans get to experience it. It was a privilege to be involved.
Oldman, 60, was known to have an especially close friendship with Bowie and made a cameo in the late singers 2013 music video for The Next Day. The pair also starred together in the 1996 movie Basquiat. (more…)
As Lady Gaga apologises for working with R Kelly, all the stars who have spoken out against him
The allegations of sexual abuse against R Kelly have been brought into the spotlight again by the Li..
The allegations of sexual abuse against R Kelly have been brought into the spotlight again by the Lifetime docu-series Surviving R Kelly.
Fresh investigations into the Ignition singer have been launched in Chicago and Atlanta into allegations of sexual and physical abuse made against him by a number of women.
The 52-year-old is accused of holding five women in a sex cult, as well as having sexual contact with girls as young as 14. R Kelly has strongly denied these allegations.
While the attention on the allegations has ramped up since the airing of Surviving R Kelly, rumours have been rampant since the 90s, when the singer allegedly married Aaliyah when she was 15 and he was 27.
In light of the documentary, Lady Gaga – who collaborated with R Kelly on the 2013 song Do What You Want – has apologised for working with the R&B star.
In a note on social media, Gaga wrote: As a victim of sexual assault myself, I made both the song and the video at a dark time in my life, my intention was to create something extremely defiant and provocative because I was angry and still hadnt processed the trauma that had occurred in my own life.
Advertisement Advertisement
The song is called "Do What U Want (With My Body)," I think its clear how explicitly twisted my thinking was at the time. If I could go back and have a talk with my younger self Id tell her to go through the therapy I have since then, so that I could understand the confused post-traumatic state that I was in—or if therapy was not available to me or anyone in my situation—to seek help, and speak as openly and honestly as possible about what weve been through.
I cant go back but I can go forward and continue to support women, men and people of all seuxal identities and of all races who are victims of sexual assault. I have demonstrated my stance on this issue and others many times throughout my career. (more…)