K-pop band's Japan performance axed over atom bomb shirt
A Japanese broadcaster has axed a live appearance from a hugely popular South Korean boyband after a..
A Japanese broadcaster has axed a live appearance from a hugely popular South Korean boyband after a pictured emerged of one of its members wearing a T-shirt showing an atomic bombing.
The long-sleeved shirt, worn by BTS member Jimin, also reads "patriotism" and "Korea" while depicting a celebration of the country's liberation from Japan in 1945.
The top features an image of an atomic bomb explosion, which social media users have suggested shows either the bombing of Hiroshima or Nagasaki in the Second World War.
Jimin reportedly wore the shirt in August 2017 when Koreans celebrate the end of Japanese occupation.
The top is made by the South Korea-based clothing brand Our History, and is listed as sold out on the company's website.
BTS, a seven-member K-pop band, are known for their boyish looks and meticulously choreographed dance moves.
They are one of South Korea's best-known musical exports, becoming the first K-pop performers to top the US Billboard 200 with "Love Yourself: Tear."
BTS were due to perform on the live show Music Station on TV Asahi on Friday before the photo of Jimin went viral.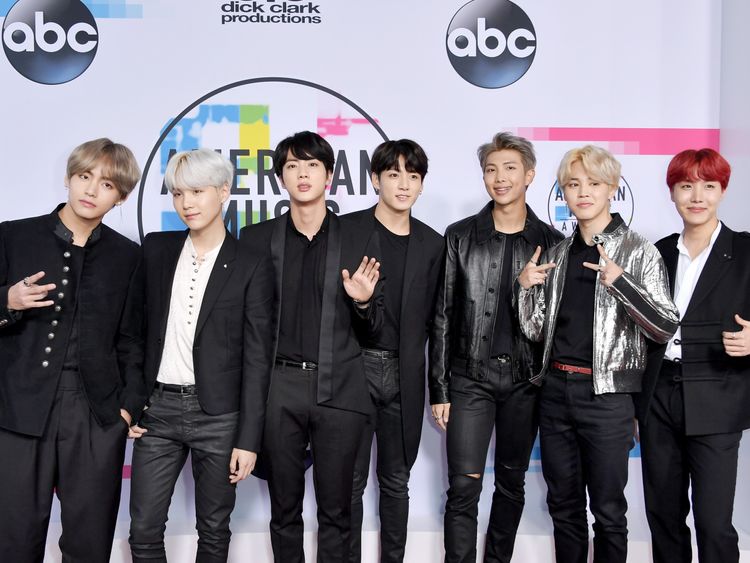 TV Asahi said in a statement: "BTS' appearance scheduled for the 9th has been cancelled.
"The T-shirt that one of the members wore made headlines and became controversial."
BTS' recording company Universal Music said it will continue to support the band, but confirmed their appearance on Music Station had been cancelled.
The term K-pop refers to domestic popular music in South Korea, which can be influenced by any number of different styles and genres.
I can never accept the act that #BTS member wore the atomic bomb T-shirts humanely. The problem is not the relation between Japan and Korea. It's just humanity. pic.twitter.com/x37nZs8pJG

— 髙橋裕司 (Yuji T) (@YuJett) November 9, 2018
K-pop artists are extremely popular in Japan, despite the hostility that can mark other aspects of the two nation's ties.
The two countries have strained relations due to Japan's occupation of the Korean Peninsula in the early 20th century until the end of the Second World War.
Tokyo reacted furiously in October after South Korea's top court ordered a Japanese steel giant to compensate victims of wartime forced labour programmes.
Despite the controversy over the top, some Japanese fans expressed disappointment that the BTS performance had been cancelled.
BTS has said in a statement over the the row: "We apologise for disappointing fans who were looking forward to this.
"BTS will continue their efforts to connect with fans on stage and also through music."
More from World
Japan became the first nation to suffer an atomic bombing on 6 August 1945, at Hiroshima. This was followed by another bomb being dropped on Nagasaki on 9 August.
Japan surrendered six days later.
Dani Dyer and Jack Fincham will host NTAs together as they continue to spark rumours of reconciliation
Dani Dyer and Jack Fincham have put the cat among the pigeons (Picture: Rex)
Dani Dyer and Jack Finc..
Dani Dyer and Jack Fincham may be enjoying one of the most mature break-ups of the year as they have confirmed they will continue to host the 2018 National Television Awards together – and have stayed close to each others families.
The pair enjoyed some bants on Instagram on Saturday after 22-year-old Dani shared a picture of her grandmother Christine raising a glass of wine during a family meal.
Here she is, commented Jack on the picture, to which Dani wrote back: @jack_charlesf she loves ya.
The pair won Love Island this past summer, but called time on their romance five months after leaving the villa.
Jack and I have sadly decided to part ways. Its been an incredible six months and we will always have a place in our hearts for each other, but sadly weve come to the realisation that its not mean to be long-term, Dani confirmed on Instagram on Thursday.
Advertisement Advertisement
We both plan to stay friends, I hope youll all understand. Love, Dani xx, she added.
However hours later the post has been removed from the social sites, leaving fans confused as to the status of their romance – and what their split means for their upcoming projects.
It was confirmed just two weeks ago that Jack and Dani would be involved at the awards night, as in mid-November the pair revealed they had been asked to work alongside TV legend Dermot OLeary at the National Television Awards (more…)
Caroline Flack reveals battle with depression that hit lowest point after savage Graham Norton dig
The star has opened up (Picture: Getty Images)
Caroline Flack has revealed ever since she won Strict..
Caroline Flack has revealed ever since she won Strictly Come Dancing and began her rise through the ranks of the industry in 2014 shes been battling depression.
It comes after the Love Island host denied she threatened to kill herself after ex-fiance Andrew Brady rang 999 on the star following a row.
The star said her mental health hit a low point after her X Factor hosting gig alongside Olly Murs was the butt of jokes, however it all started to spiral the year earlier – specifically the day after she took out the Strictly trophy and woke up feeling like somebody had covered her body in clingfilm.
I couldnt get up and just couldnt pick myself up at all that next year. I felt ridiculous, being so sad when Id just won the biggest show on telly and had such an amazing job, the 39-year-old told The Sun.
Adding fame didnt make her happy she explained anti-depressants also quelled her sparkling mood, making it hard for her to get up in the morning when her career was at all-time high.
Advertisement Advertisement
But it was Graham Nortons joke at the 2016 Baftas that hit her hardest, as he said there was more chance of Anne Boleyn returning to Wolf Hall than Caroline returning to host X Factor.
Ouch.
She said: I remember the person next to me touching my arm in sympathy and just trying not to cry. I went home pretty much straight after. It was really horrible and my lowest point. (more…)
Robert Mueller is hiding in Eric Trump's closet on 'SNL'
The special counsel paid a special visit to the president's sons on this week's episode of..
The special counsel paid a special visit to the president's sons on this week's episode of "Saturday Night Live."
Eric Trump, played with usual stupid brilliance by Alex Moffat, was being tucked into bed by Mikey Day's Donald Trump Jr. when he started to have some fears about he and his brother's future.
"There's no boogeyman in your closet," Trump Jr. said. "Have you been watching the news again?"
Day's Trump Jr. decided to read his younger brother a bedtime story to help calm him down. Eric struggled a bit with the meaning of words in "Twas the Night Before Christmas" (starting with the very first word).
But it was a large creaking noise that brought out the real boogeyman.
"That's the cheap steel dad uses to build his towers," Trump Jr. said, walking over to open the closet. "See, nothing in the closet?"
Of course, as he opened the door, Robert Mueller — played as usual by Robert De Niro — was standing inside.
"Robert Mueller is in there!" Eric exclaimed.
"Eric, nobody likes a fibber," Trump Jr. said, before leaving to take a phone call from his lawyer.
Mueller sat down with Eric to say, "No matter what happens, America is gonna be just fine," because of the good people in it. (more…)