Why Poland's independence day is marred
The occasion should be one for celebration in Poland. But controversy and confusion over a planned f..
The occasion should be one for celebration in Poland. But controversy and confusion over a planned far-right independence march in the capital Warsaw has overshadowed preparations.A court in Warsaw on Thursday overturned a decision by the city's mayor to ban the march over security concerns after the organizers appealed.Mayor Hanna Gronkiewicz-Waltz, of the opposition Civic Platform party, had declared Wednesday that the march should not go ahead because Warsaw had "suffered enough due to aggressive nationalism," Reuters news agency said.Hours after she announced the ban, Poland's President and Prime Minister said the government would stage its own official march Sunday along the same route as the planned far-right march.It's now unclear what will happen on the day.The situation has been complicated by mass protest action by Poland's police, which has cast doubt over their capacity to ensure security during the march. Gronkiewicz-Waltz said Thursday she would appeal the court ruling that reinstated the unofficial march. "We have an argument in the form of yesterday's order of the Prime Minister that directs the military police to help the police," she said. "It means that our assessments were correct that police would not be able to do it."She argued that in banning the march, she was primarily guided by security considerations. "We do not know to what extent the policemen will return to work," she said.Prime Minister Mateusz Morawiecki, of the ruling right-wing Law and Justice (PiS) party, on Wednesday called on Twitter for marchers to unite under Poland's white and red flag to celebrate the centenary.Organizers of the unofficial "March of Independence" — including two nationalist groups, the All-Polish Youth and the National Radical Camp — welcomed the court ruling overturning the ban.But Robert Bąkiewicz, chairman of the organizing group, said they were talking to authorities with the public image of their homeland in mind. "We want (November 11) to be the holiday of all patriots," he tweeted Friday.Last year, ultra nationalists and fascist groups disrupted the main independence day march in Warsaw.One of the lead organizations involved in the march was the National Radical Camp, which had previously taken to the streets to protest against Muslim immigration, gay rights, the European Union and anything it considers undermines Polish Catholic values.The day celebrates the rebirth of Poland in November 1918, 123 years after the Prussian, Habsburg and Russian empires carved up Poland among themselves and erased it from the map of Europe.
UK PM: Brexit deal 'immensely difficult'
Addressing leaders of London's financial district, where anxiety is mounting about the economic..
Addressing leaders of London's financial district, where anxiety is mounting about the economic impact of a no-deal Brexit, May said that an agreement would not come "at any cost.""Any deal must ensure we take back control of our laws, borders and money," she said. "It must secure the ability to strike new trade deals around the world."Michel Barnier, the chief European Union negotiator, earlier that day told European ministers negotiations had run into the early hours of Monday morning.Talks were so intense and protracted that Barnier canceled a planned press conference Monday so he could continue thrashing out a deal, a European diplomat told CNN.A key sticking point is the Irish border. Currently, the UK and Ireland are both part of the EU single market, so goods passing between the two regions do not need customs inspections.Both sides want to avoid a "hard border" between Northern Ireland and Ireland which would require infrastructure and customs checks, but cannot agree on the terms.If no agreement is made, a backstop will come into effect in 2020 which will effectively see Northern Ireland remain in the EU customs union.Both EU and British officials declined to comment on reports that European Council President Donald Tusk had given May a deadline of Wednesday night to agree a deal.Once Barnier indicates that sufficient progress has been made towards a deal, it will take 10 days to two weeks to call a summit to approve it, the officials said.
Ticking time bomb
May has been scrambling to finalize a deal by the end of November in order to put a "meaningful final vote" before MPs ahead of Christmas. Time is ticking. The UK is scheduled to leave the EU on March 29, 2019.Earlier this week, Jo Johnson resigned as transport minister and called for a second referendum on Brexit."We are barreling towards an incoherent Brexit that is going to leave us trapped in a subordinate relationship to the EU, with no say over the rules that will govern huge swathes of our economy,"Johnson said in a video statement posted online. After nearly 18 months of grueling negotiations, May is widely reported to be nearing a deal that would tie Britain to EU rules and regulations for a transition period. The prime minister has flatly rejected calls for a second Brexit vote. "The referendum in 2016 was the biggest democratic exercise in this country's history," her spokesperson told CNN. "We will not under any circumstances have a second referendum."
CNN's Laura Smith-Spark and Rob North contributed to this report.
White House: Trump discussed key issues with Putin, Macron and Merkel
"Today at lunch, the President sat with President Macron, Chancellor Merkel, and President Putin, an..
"Today at lunch, the President sat with President Macron, Chancellor Merkel, and President Putin, and many other world leaders," Sanders told reporters traveling with the President. "The leaders discussed a variety of issues, including the INF (nuclear treaty), Syria, trade, the situation in Saudi Arabia, sanctions, Afghanistan, China and North Korea."Sanders said, "They had very good and productive discussions during the two-hour lunch," which was held at the official residence of the French President. Russian state news agencies reported a brief exchange between Trump and Putin at Sunday's armistice centenary ceremonies in Paris. RIA Novosti reported Putin as replying in the affirmative when asked if he was able to talk with Trump in a meeting at the Élysée Palace with other foreign leaders.Asked how the conversation went, according to RIA, the Russian President replied: "Well."Kremlin spokesperson Dmitry Peskov said the two leaders were able to exchange pleasantries during the working lunch, Russian state agencies reported.
A century after guns fell silent, leaders gather to remember those who lost their lives
Members of the public, military veterans, world leaders and royals took part in memorials around the..
Members of the public, military veterans, world leaders and royals took part in memorials around the globe to remember the 8.5 million people who gave their lives between 1914 and 1918.French President Emmanuel Macron led the international Armistice Day commemorations Sunday morning by the Tomb of the Unknown Soldier, which lies at the foot of the Arc de Triomphe monument in Paris.During his address, Macron — who has emerged as Europe's most vocal sentry against a global tide of nationalism — repeated his warnings."Patriotism is the exact opposite of nationalism," he said through a translator. "Nationalism is a betrayal of patriotism. By saying our interests first, who cares about the others, we erase what a nation holds dearest, what gives it life, what makes it great and what is essential: its moral values."I know there are old demons which are coming back to the surface. They are ready to wreak chaos and death," he said. "History sometimes threatens to take its sinister course once again."US President Donald Trump and first lady Melania Trump were among those in Paris for the commemorations, which coincide with Veterans Day in the United States. Some 117,000 American military personnel died in World War I. Trump's arrival wasn't as smooth as expected, being disrupted by a topless protester who ran towards the US President's motorcade as it was approaching the Arc de Triomphe. The woman, who had the words "fake" and "peace" scrawled across her bare chest was eventually apprehended by security officials.The US President also faced criticism after the White House canceled a planned trip to the Aisne-Marne American Cemetery, 50 miles outside Paris, on Saturday due to "scheduling and logistical difficulties caused by the weather."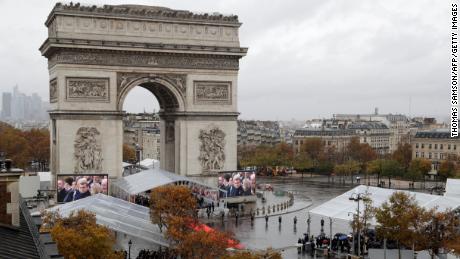 Also in attendance at the memorial in Paris was German Chancellor Angela Merkel, Canadian Prime Minister Justin Trudeau, Russian President Vladimir Putin and Turkish President Recep Tayyip Erdoğan.Following Sunday's ceremony at the Arc de Triomphe, Trump attended a lunch for all the world leaders. He later visited another American cemetery, this one closer to Paris, to lay a wreath and deliver his own speech. Speaking at Suresnes American Cemetery, Trump called out to six US veterans from World War II who were in the crowd, and a 13-year-old American boy who had saved up to attend the event.He also paid his respects to the thousands of American soldiers who died in WWI: "It is our duty to preserve the civilization they defended and secure the peace they so nobly gave their lives for one century ago."Trump is due back in Washington by Sunday evening.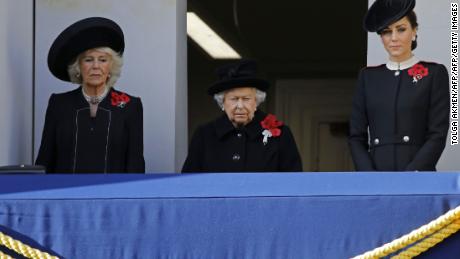 Meanwhile, across the English Channel, royals and senior politicians gathered with veterans and members of the public at the Cenotaph in central London for Sunday's remembrance service. At 11 a.m. the United Kingdom fell silent for two minutes to mark 100 years since the end of WWI, and to remember the approximately 900,000 Britons who gave their lives.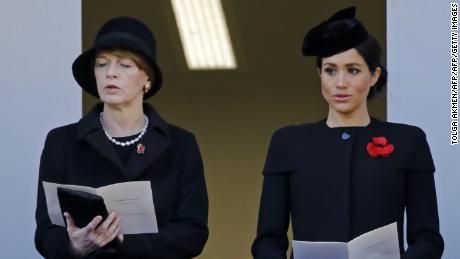 Prince Charles laid a wreath at the memorial on behalf of Queen Elizabeth II — who watched on from the balcony of the Foreign and Commonwealth Office.Catherine, the Duchess of Cambridge, Camilla, the Duchess of Cornwall and Meghan, the Duchess of Sussex joined the Queen on the balcony.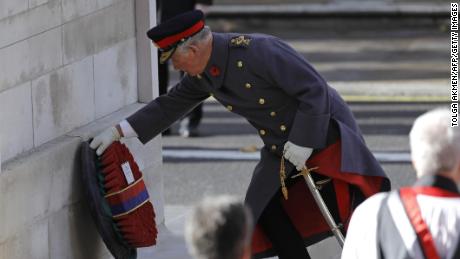 Earlier, Australia and New Zealand were the first to mark Armistice, where crowds gathered to pay tribute to the 60,000 Australians and 18,000 New Zealanders who died while serving for the British empire.For Australia, WWI remains the "costliest conflict in terms of deaths and causalities."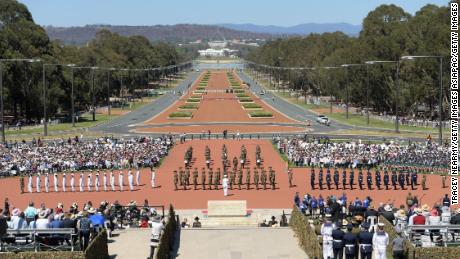 In Russia, while President Putin joined world leaders in Paris, commemoration services were being held across the country.The Russian Empire, which had a population of around 150 million people, suffered 1.7 million deaths during the war.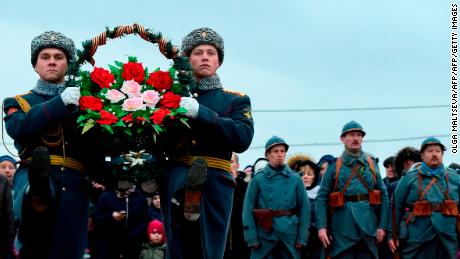 Meanwhile, in Germany, when it comes to remembering World War I, there are far fewer memorials — with the day being marked with muted self-reflection. There will be a commemorative concert to mark the end of the war this evening, however there is no scheduled nationwide event. Later on in Washington in the US, the main Veterans Day memorial will take place at Arlington National Cemetery. There will be a wreath-laying ceremony at 11 a.m. local time at the Tomb of the Unknown Soldier, which will then be followed by an observance program in the cemetery's amphitheater.