The Party review: Sally Potter's night from hell
We're in great company and the story's physical confines don't restrict its range or ..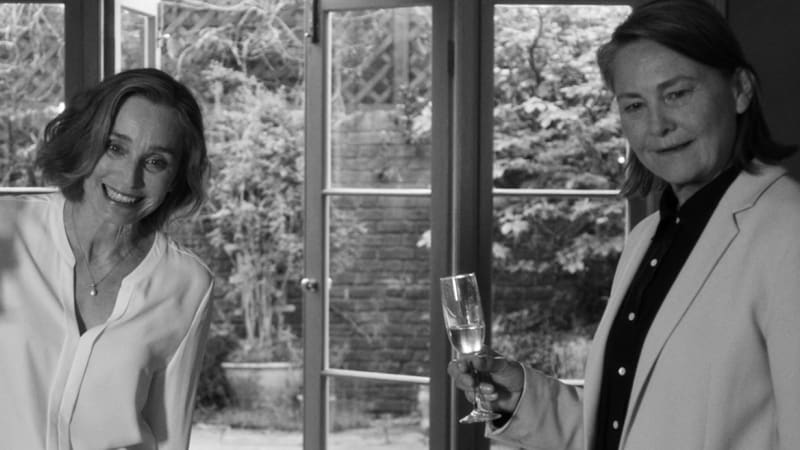 We're in great company and the story's physical confines don't restrict its range or ambitions. As well as dissecting a 30-year marriage, Potter's script takes in the state of Britain today – or rather, the left-leaning side of its political base.
Janet (Kristin Scott Thomas) is giving a party to celebrate her new job as Shadow Minister for Health and, initially, the mood is congratulatory. By the end of the evening, however, it's degenerated to the point where murder is a distinct possibility.
Nonetheless, there is plenty of fun to be had along the way. Some of the most caustic lines go to the svelte American actress, Patricia Clarkson, cast as Janet's best friend, April, who is blessed with a keen eye for the hypocrisies essential to political life.
While she applauds Janet's efforts to infuse some integrity into the system, she believes they're doomed to failure. And when she's not preoccupied with her predictions, she's snapping at her boyfriend, Gottfried (Bruno Ganz), a "life coach" who seems to regard the other party-goers as suitable subjects for treatment.
And he's right. Martha (Cherry Jones) and her much younger lover, Jinny (Emily Mortimer), are undergoing a domestic crisis brought on by Jinny's discovery that she is carrying not one baby, but three, and Cillian Murphy's Tom, a wealthy financier regarded with deep distrust by the others, keeps rushing to the bathroom to snort cocaine. He's also carrying a gun.
And in the centre of the turmoil is Janet's husband, Bill (Timothy Spall), who is slumped in his chair, mysteriously reluctant to utter a word.
As all this plays out, Janet, in an apron, divides her time between the chaos and the kitchen, where she's soldiering on over the vols au vent because her left-wing beliefs won't allow her to hire home help.
Potter cannily paces the revelations that energise the plot while her actors extract full value from her every line. The fact the script supplies most of the characters with only sketchy background stories doesn't matter.
Armed with his own brand of unshakeable self-confidence, the seemingly gormless and ever curious Gottfried is so impervious to April's insults you can almost understand how they got together. And Murphy invests Tom's hysteria with so many comic flourishes that he doesn't have to be believable.
At the other end of the physical spectrum is Spall's Bill, a crumpled mess, sinking ever more deeply into his chair. We are afforded an outline of his years with April.
We know he's an academic and that he's been the loyal supporting player to her rising star and as the reasons for his current state of depression are revealed, we see just how much this role has cost him.
Potter is mining a timeless theme here. She's interested in the relationship between the personal and the political and just how accurately one mirrors the other. Among this group, the only political outsider is the overwrought Tom.
Even April, the cynic, is, in principle, a liberal. And the others, old friends, like to think their politics are reflected in their behaviour towards one another. But by the party's climax, those convictions are in tatters.
The twist at the end serves as a punchline to the mordant joke the party has become and you could write it off as a gimmick – an abrupt descent into absurdity – but there's such wit in Potter's dialogue and such verve in its delivery that only a party pooper could complain.
Comments disabled
Morning & Afternoon Newsletter
Delivered Mon–Fri.
007 film must treat Bond girls properly, says Waller-Bridge
Fast cars, martinis and Bond girls are core parts of the formula for 007 films, but one of those ele..
Fast cars, martinis and Bond girls are core parts of the formula for 007 films, but one of those elements is set for a change in the latest adventure.
Fleabag creator Phoebe Waller-Bridge, who is working on the script for the 25th Bond film, is on a mission to make sure the movie will "treat women properly" – even if the spy does not.
Ahead of the release of the as-yet-untitled film, Waller-Bridge told Deadline: "There's been a lot of talk about whether or not (the Bond franchise) is relevant now because of who he is and the way he treats women.
"I think that's b*******. I think he's absolutely relevant now. It has just got to grow.
"It has just got to evolve, and the important thing is that the film treats the women properly.
Advertisement
"He doesn't have to. He needs to be true to this character."
Waller-Bridge says she intends to ensure the female characters, including those played by Lashana Lynch, Lea Seydoux and Ana de Armas, feel "like real people ".
More from Phoebe Waller-bridge
She added: "I just want to make sure that when they get those pages through, that Lashana, Lea and Ana open them and go, 'I can't wait to do that'.
"As an actrRead More – Source (more…)
Sir Elton hits out at Russia for 'cruel' Rocketman censorship
Sir Elton John has criticised Russian censors for cutting gay sex scenes from the hit musical biopic..
Sir Elton John has criticised Russian censors for cutting gay sex scenes from the hit musical biopic Rocketman.
The critically acclaimed film charts the British singer's rise to fame, and its scenes of kissing and sex between men, as well as drug use, contributed to it earning a 15 certificate in the UK.
But in a bid to play down the sexuality of Sir Elton, played by actor Taron Egerton, for a conservative Russian audience, an estimated five minutes of footage was reportedly removed ahead of its debut in Moscow.
The Moscow Times quoted a Russian film critic who had seen the film at its world premiere in Cannes on 16 May as saying "all scenes with kissing, sex and oral sex between men have been cut", as well as a photo displayed during the end credits featuring Sir Elton and his husband David Furnish.
Sir Elton, 72, a prominent gay rights campaigner, released a joint statement with the makers of the film to accuse censors of being "cruelly unaccepting of the love between two people".
Advertisement
"We reject in the strongest possible terms the decision to pander to local laws and censor Rocketman for the Russian market, a move we were unaware of until today," they said.
"That the local distributor has edited out certain scenes, denying the audience the opportunity to see the film as it was intended, is a sad reflection of the divided world we still live in and how it can still be so cruelly unaccepting of the love between two people.
More from Elton John
"We believe in building bridges and open dialogue, and will continue to pushRead More – Source
Ben Affleck steps out to drop off kids as Robert Pattinson is announced as new Batman
Ben Affleck played Batman until earlier this year (Picture: Backgrid)
Ben Affleck has been pictured ..
Ben Affleck has been pictured performing his parental duties in Los Angeles, as his official replacement in the Batman role is announced.
The 46-year-old actor was seen in the early hours on Friday (31 May) dropping off son Samuel, seven, and daughter Seraphina, 10, to school.
Affleck has three children with ex-wife Jennifer Garner – Seraphina, Samuel and 13-year-old Violet.
On the same day the actor was pictured, it was announced Robert Pattinson will take over as Batman in a planned trilogy of movies with director Matt Reeves.
Affleck, who played Bruce Wayne in Batman V Superman: Dawn Of Justice and 2017s Justice League, stepped down from the role in January earlier this year – after being originally down to direct and star in his own film.
Advertisement
Advertisement
Speaking about his departure in March, Affleck stated how he was never happy with the script they were planning to use.
We worked on the script, I was trying to figure out how to cRead More – Source