Gurrumul's final gift: Australia's most original recording?
The result is Djarimirri (Child of the Rainbow), the final album from Gurrumul, who died in July, ag..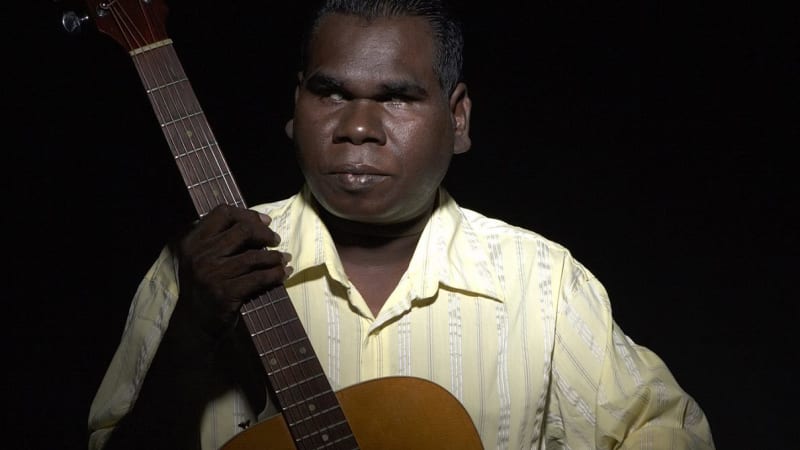 The result is Djarimirri (Child of the Rainbow), the final album from Gurrumul, who died in July, aged just 46
It is the result of five years of work and unlike any previous Australian recording. It's a synthesis of ancient Aboriginal chants, modern orchestral minimalism and the complex rhythmic patterns of Elcho Island's yidarki (the Yolgnu word for didgeridoo) playing.
It is a unique and hugely significant contribution to Australian music.
Why? In the process of recording Gurrumul's vocals (there are 12 traditional Yolgnu chants all improvised by Gurrumul and set against orchestral compositions performed by members of the ACO and SSO), Hoenen and composer/arranger Erkki Veltheim found they did not have to plaster one culture onto another – they discovered a uniquely Australian rhythm, a sound that seemed to be coming up from the land.
"We tried some of these pieces live and there was a big element missing," Hoenen says. "These songs in isolation are not as complete as when they have a yidarki. We brought the yidarki into the recording for the tuning reasons, for the Aboriginal sound reasons … I went to Elcho Island and firstly I worked with G on a whole lot of yidarki. Then I went and played those recordings to other members of the Yunupingu family … one of the members of the family is a master didgeridoo player in his own right. I got the pattern that these players would play to these songs.
"We don't think that we have musical riffs that come from Australia … Aboriginal people from the Northern Territory create amazing musical patterns that go with these songs. Some are in 4/4, others are in 12/8.
"Once we got the pattern, and once we got a player who could play the pattern according to what G had recorded, then Erkki transcribed them and we got Julian Thompson, who is the lead ACO cellist, to play the solo.
"If you listen to some of the ballads you will hear this rhythm underneath the singing. You hear it more in the ballads – Marrayarr (Flag) is one; Njarrpila (Octopus) is another – they are unique Australian bass riffs. I would love it if they became part of the Australian musical vernacular. These pieces are legitimately and uniquely ours."
Erkki Veltheim, a Finnish-Australian musician who has been involved with Gurrumul since 2005, scored and transcribed the compositions. "They are my compositions but the inspiration for all the orchestral compositions came from G's initial chanting, which was recorded over several years.
"The other thing that Michael and the rest of us insisted upon was that the yidarki lines, which are dedicated to each of those chants, had to be the starting point for the orchestral compositions," Veltheim says.
"I have to credit Michael for the connection between the chants and minimalism. When Michael explained the idea to me it clicked immediately. It has been a rewarding journey to try and find this new language that combines these two traditions.
"It is a humbling thing for someone like myself to try and understand through my western education what is going on in yidarki patterns which are incredibly complex … when you do get it right and you see G and his family and the people of that tradition on Elcho Island responding … that's when you know you have created something.
"I think Michael's idea … has been to insist on representing the songs as the classical tradition of Australia. I totally subscribe to that. This is the great classical canon of Australia."
Djarimirri (Child of the Rainbow) is released on Skinnyfish Music today.
"The beat goes on" – Good Weekend, Saturday
Elders on Elcho Island have given permission for Gurrumul's name to be used. Michael Hohnen and Erkki Veltheim prefer to use "G", when referring to the artist.
Comments disabled
Morning & Afternoon Newsletter
Delivered Mon–Fri.
007 film must treat Bond girls properly, says Waller-Bridge
Fast cars, martinis and Bond girls are core parts of the formula for 007 films, but one of those ele..
Fast cars, martinis and Bond girls are core parts of the formula for 007 films, but one of those elements is set for a change in the latest adventure.
Fleabag creator Phoebe Waller-Bridge, who is working on the script for the 25th Bond film, is on a mission to make sure the movie will "treat women properly" – even if the spy does not.
Ahead of the release of the as-yet-untitled film, Waller-Bridge told Deadline: "There's been a lot of talk about whether or not (the Bond franchise) is relevant now because of who he is and the way he treats women.
"I think that's b*******. I think he's absolutely relevant now. It has just got to grow.
"It has just got to evolve, and the important thing is that the film treats the women properly.
Advertisement
"He doesn't have to. He needs to be true to this character."
Waller-Bridge says she intends to ensure the female characters, including those played by Lashana Lynch, Lea Seydoux and Ana de Armas, feel "like real people ".
More from Phoebe Waller-bridge
She added: "I just want to make sure that when they get those pages through, that Lashana, Lea and Ana open them and go, 'I can't wait to do that'.
"As an actrRead More – Source (more…)
Sir Elton hits out at Russia for 'cruel' Rocketman censorship
Sir Elton John has criticised Russian censors for cutting gay sex scenes from the hit musical biopic..
Sir Elton John has criticised Russian censors for cutting gay sex scenes from the hit musical biopic Rocketman.
The critically acclaimed film charts the British singer's rise to fame, and its scenes of kissing and sex between men, as well as drug use, contributed to it earning a 15 certificate in the UK.
But in a bid to play down the sexuality of Sir Elton, played by actor Taron Egerton, for a conservative Russian audience, an estimated five minutes of footage was reportedly removed ahead of its debut in Moscow.
The Moscow Times quoted a Russian film critic who had seen the film at its world premiere in Cannes on 16 May as saying "all scenes with kissing, sex and oral sex between men have been cut", as well as a photo displayed during the end credits featuring Sir Elton and his husband David Furnish.
Sir Elton, 72, a prominent gay rights campaigner, released a joint statement with the makers of the film to accuse censors of being "cruelly unaccepting of the love between two people".
Advertisement
"We reject in the strongest possible terms the decision to pander to local laws and censor Rocketman for the Russian market, a move we were unaware of until today," they said.
"That the local distributor has edited out certain scenes, denying the audience the opportunity to see the film as it was intended, is a sad reflection of the divided world we still live in and how it can still be so cruelly unaccepting of the love between two people.
More from Elton John
"We believe in building bridges and open dialogue, and will continue to pushRead More – Source
Ben Affleck steps out to drop off kids as Robert Pattinson is announced as new Batman
Ben Affleck played Batman until earlier this year (Picture: Backgrid)
Ben Affleck has been pictured ..
Ben Affleck has been pictured performing his parental duties in Los Angeles, as his official replacement in the Batman role is announced.
The 46-year-old actor was seen in the early hours on Friday (31 May) dropping off son Samuel, seven, and daughter Seraphina, 10, to school.
Affleck has three children with ex-wife Jennifer Garner – Seraphina, Samuel and 13-year-old Violet.
On the same day the actor was pictured, it was announced Robert Pattinson will take over as Batman in a planned trilogy of movies with director Matt Reeves.
Affleck, who played Bruce Wayne in Batman V Superman: Dawn Of Justice and 2017s Justice League, stepped down from the role in January earlier this year – after being originally down to direct and star in his own film.
Advertisement
Advertisement
Speaking about his departure in March, Affleck stated how he was never happy with the script they were planning to use.
We worked on the script, I was trying to figure out how to cRead More – Source