Music reviews: Gurrumul, Hop Along, Jonathan Zwartz, City Calm Down
ANIMARUM (Planet/MGM)
★★★★☆
You sense again the fastidious distillation of ideas that was a hallma..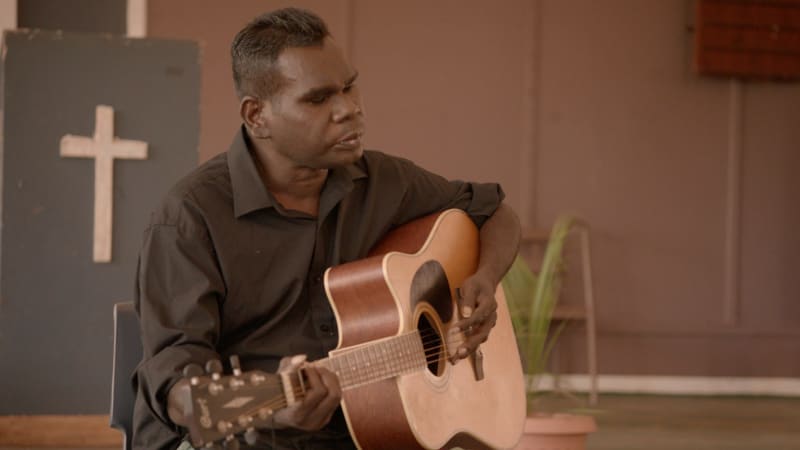 ANIMARUM (Planet/MGM)
★★★★☆
You sense again the fastidious distillation of ideas that was a hallmark of Jonathan Zwartz's two previous albums as leader, The Sea and The Remembering & Forgetting of the Air. Something of the same introversion that imbued those records with such soothing, reflective music is at work, too, but this time the compositional horizons have been pushed back just a little, allowing greater breadth of improvisational contributions from the bassist's exceptional collaborators. You hear it on Julien Wilson's Sound of Love, where Zwartz simultaneously doffs his cap to Charles Mingus' great ode to Ellington, and gives tenor saxophonist Wilson a vehicle for all the breathy warmth and affecting tenderness he can muster. While remaining restrained, this is a monumental solo, aligning Wilson with the titans of pre-bebop tenor saxophone. The title track and Voyage of the Falcon both contain enthralling dialogues between airiness and tautness, realised by a band that boasts Barney McAll (piano), Phil Slater (trumpet), James Greening (trombone), Richard Maegraith (reeds), Steve Magnusson (guitar), Hamish Stuart (drums) and Fabian Hevia (percussion). And, for those who still care, the sound quality and stereo imaging are exceptional. JOHN SHAND
ROCK City Calm Down
ECHOES IN BLUE (I OH YOU)
★★★★☆
The band's name alone suggests a certain aggravation with the pressures of modern urban living, and the Melbourne quartet's second record further explores that tension. Songs about disconnection and dissolving relationships (In This Modern Land, Distraction/Losing Sleep and Decision Fatigue) were written at a time when singer and lyricist Jack Bourke was struggling to balance his work as a lawyer, the band and his impending wedding. Musically, it's not a stark departure from the first album, nodding to Joy Division, Editors, the National and the Horrors, with widescreen guitars, crashing percussion, blue-note synths and Bourke's brooding baritone. Increasingly, though, the band is making songs that will stand as their own reference points, like the lush title track, its prickling synths blossoming into pearly guitar lines. Joan, I'm Disappearing is their best song yet, lamenting the breakdown of a long-term relationship, with Bourke high-pitched and broken in the devastating chorus: "And I am lost without you/At first I didn't feel it/But now I'm disappearing." Work-life balance, mortgage debt and other universal dilemmas loom heavily here, but the band's shimmering soundscapes offer sweet, if fleeting, relief. ANNABEL ROSS
INDIE-ROCK Hop Along
BARK YOUR HEAD OFF, DOG (Saddle Creek/Remote Control)
★★★★☆
So far flying relatively under the radar in the mainstream, Hop Along has had indie expectations at an all-time high ahead of this fourth record and their second on Saddle Creek. And if the canvas looked promising with pre-release tracks – like the melancholic pop ditty How Simple, which sees singer Frances Quinlan offer the memorable chant, "Don't worry, we'll both find out, just not together" – the album completes the painting brilliantly. While not a huge departure for the Philadelphia quartet, this set hones in on their strengths – Quinlan's expressive vocals and melodic jumps, her vivid imagery-rich storytelling that's acutely relatable, the band's ability to swing seamlessly from folk to upbeat indie-rock – and delivers them with an assuredness and a playful embellishment in their sound. There are rich grooves underpinning The Fox In Motion and strings-tinted Not Abel that, along with Quinlan's incomparable vocal delivery, make it almost possible to miss the album's message to the patriarchy. But with lines like, "So strange to be shaped by such strange men", and, "In an open field, man is guilty always", it lingers – much like the depth of this record and the talent of this band. BRONWYN THOMPSON
Comments disabled
Morning & Afternoon Newsletter
Delivered Mon–Fri.
007 film must treat Bond girls properly, says Waller-Bridge
Fast cars, martinis and Bond girls are core parts of the formula for 007 films, but one of those ele..
Fast cars, martinis and Bond girls are core parts of the formula for 007 films, but one of those elements is set for a change in the latest adventure.
Fleabag creator Phoebe Waller-Bridge, who is working on the script for the 25th Bond film, is on a mission to make sure the movie will "treat women properly" – even if the spy does not.
Ahead of the release of the as-yet-untitled film, Waller-Bridge told Deadline: "There's been a lot of talk about whether or not (the Bond franchise) is relevant now because of who he is and the way he treats women.
"I think that's b*******. I think he's absolutely relevant now. It has just got to grow.
"It has just got to evolve, and the important thing is that the film treats the women properly.
Advertisement
"He doesn't have to. He needs to be true to this character."
Waller-Bridge says she intends to ensure the female characters, including those played by Lashana Lynch, Lea Seydoux and Ana de Armas, feel "like real people ".
More from Phoebe Waller-bridge
She added: "I just want to make sure that when they get those pages through, that Lashana, Lea and Ana open them and go, 'I can't wait to do that'.
"As an actrRead More – Source (more…)
Sir Elton hits out at Russia for 'cruel' Rocketman censorship
Sir Elton John has criticised Russian censors for cutting gay sex scenes from the hit musical biopic..
Sir Elton John has criticised Russian censors for cutting gay sex scenes from the hit musical biopic Rocketman.
The critically acclaimed film charts the British singer's rise to fame, and its scenes of kissing and sex between men, as well as drug use, contributed to it earning a 15 certificate in the UK.
But in a bid to play down the sexuality of Sir Elton, played by actor Taron Egerton, for a conservative Russian audience, an estimated five minutes of footage was reportedly removed ahead of its debut in Moscow.
The Moscow Times quoted a Russian film critic who had seen the film at its world premiere in Cannes on 16 May as saying "all scenes with kissing, sex and oral sex between men have been cut", as well as a photo displayed during the end credits featuring Sir Elton and his husband David Furnish.
Sir Elton, 72, a prominent gay rights campaigner, released a joint statement with the makers of the film to accuse censors of being "cruelly unaccepting of the love between two people".
Advertisement
"We reject in the strongest possible terms the decision to pander to local laws and censor Rocketman for the Russian market, a move we were unaware of until today," they said.
"That the local distributor has edited out certain scenes, denying the audience the opportunity to see the film as it was intended, is a sad reflection of the divided world we still live in and how it can still be so cruelly unaccepting of the love between two people.
More from Elton John
"We believe in building bridges and open dialogue, and will continue to pushRead More – Source
Ben Affleck steps out to drop off kids as Robert Pattinson is announced as new Batman
Ben Affleck played Batman until earlier this year (Picture: Backgrid)
Ben Affleck has been pictured ..
Ben Affleck has been pictured performing his parental duties in Los Angeles, as his official replacement in the Batman role is announced.
The 46-year-old actor was seen in the early hours on Friday (31 May) dropping off son Samuel, seven, and daughter Seraphina, 10, to school.
Affleck has three children with ex-wife Jennifer Garner – Seraphina, Samuel and 13-year-old Violet.
On the same day the actor was pictured, it was announced Robert Pattinson will take over as Batman in a planned trilogy of movies with director Matt Reeves.
Affleck, who played Bruce Wayne in Batman V Superman: Dawn Of Justice and 2017s Justice League, stepped down from the role in January earlier this year – after being originally down to direct and star in his own film.
Advertisement
Advertisement
Speaking about his departure in March, Affleck stated how he was never happy with the script they were planning to use.
We worked on the script, I was trying to figure out how to cRead More – Source