What's on TV: Tuesday, April 24
What do you do when your kid is going off the rails? If you're a desperate parent in South Caro..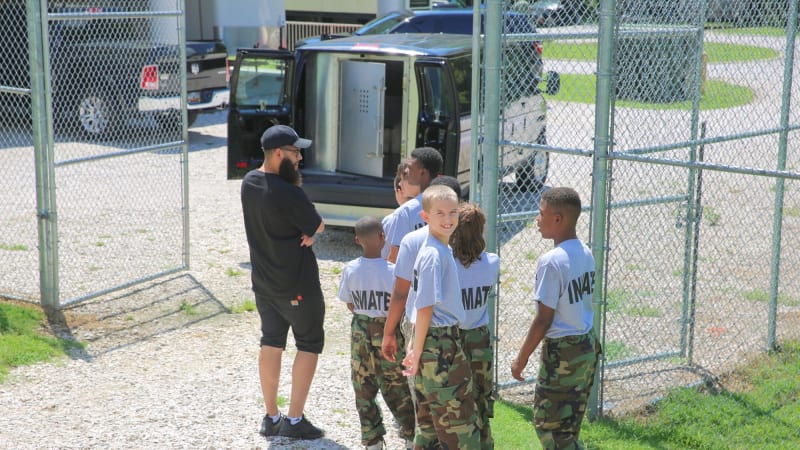 What do you do when your kid is going off the rails? If you're a desperate parent in South Carolina, you send them to Project Storm, the Ches‍‍County Sheriff's Office Showing Teens Our Real Mission Program. It's a weekend-long program where delinquent teens are treated like inmates – they wear a prison uniform, perform military exercises, and are generally subjected to an experience so unpleasant, it will (hopefully) deter them from continuing down the wrong path. When some boys are reduced to tears during the training, the officers, who pride themselves on their fear and punishment approach to deterring crime, deem them "girls" and "sissies". Presenter Jamali Maddix is visiting the camp as part of his Hate Thy Neighbour VICE series in which he meets controversial groups around the world. He's a particularly good fit for this episode as a self-confessed former teen menace, and is able to get on the boys' level (throwing footballs, calling them "brother", high-fiving them). Occasionally Maddix's cool dude schtick becomes tiresome. The documentary is spliced with his stand-up comedy, which often draws from his experience filming this show, and anecdotes, like him being recognised as "that motherf–ker from Vice!" don't quite ring true. More impressive is his defence of one of the boys at the episode's end, when his mother arrives late to pick him up from camp, missing the graduation ceremony. "Do you think anything else needs to change, other than your son's behaviour?" he asks repeatedly. After watching him stand idly by when the kids were put through their gruelling paces earlier, it's good to see him standing up for the little guys. AR
PAY TV
Genius: Picasso
Tuesday, National Geographic, 7.30pm
Antonio Banderas plays Pablo Picasso, his severe hair parting and equally severe scowl making him look disconcertingly like a greying Adolf Hitler. But Banderas doesn't get much of a look-in as this bio-drama series gets under way tonight. Sure, his older Picasso is making a start on Guernica and enjoying the enmity between his mistresses, Marie-Therese Walter and Dora Maar (Poppy Delevingne and Samantha Colley), but most of this whipsawing episode involves younger actors playing younger Picassos. Sadly, it's nothing like the terrific start that executive producer Ron Howard gave Genius' Einstein season when he jumped behind the camera for the first episode. This episode, directed by series creator Kenneth Biller, feels unsubtle and soapy, constantly yanking the viewer backwards and forwards in time to witness the precocious young Picassos hear and speak portentous line of dialogue after portentous line of dialogue. This could be quite a long haul. BN
Murderer's Row (1966)
Fox Classics (pay-TV), 8.35pm
In the mid-1960s, with the James Bond film franchise in full flight, producers around the globe battled to find the best way to cash in on the secret-agent boom. In England, Ralph Thomas tried with Dirk Bogarde in Hot Enough for June (1964). In America, James Coburn famously played Derek Flint in Our Man Flint (1966) and In Like Flint (1967). Dean Martin also picked up a gun and seduced the ladies in four Matt Helm films (1966-68). In the first, The Silencers (Fox Classics, today, midday), Matt thwarts the sinister Big-O organisation and flirts with Gail and Tina, played by major screen sirens Stella Stevens and Daliah Lavi. The film – a not-at-all meaningful spy spoof – was a hit and Murderer's Row followed months later. Evil Big-O is back and Matt again flirts with the leading ladies, this time played by Ann Margaret and Carmilla Sparv. Murderer's is beyond trivial, but sometimes fun, and Dean Martin is effortlessly charming. SM
So, we guess this means Beyonce and Jay-Z are OK then
The first couple of pop music took the world by surprise by dropping their first album together last..
The first couple of pop music took the world by surprise by dropping their first album together last weekend. As you'd expect, it's a statement.
There is arguably no couple better at controlling their own press than Beyonce and Jay-Z. When a video surfaced in 2014 showing Bey's younger sister Solange attacking her brother-in-law in an elevator, rumours of a strained marriage proliferated.
Rather than battle the tabloids, the spouses used the gossip to fuel the creation of two critically beloved, commercially successful records: Beyonce's Lemonade and Jay-Z's 4:44. And, in them, they offered just as many details about their private lives as they chose.
Now the couple have continued their domination of pop music, surprising the world last Saturday by releasing their joint album Everything Is Love, which is something of a sequel to those two solo records. Though they have collaborated for at least 15 years, this marks their first joint album, which they dropped under the name The Carters.
The record is a victory lap from a couple who have mined their relationship for universal truths and then presented them as art. It's a fierce love letter to success, to family, to blackness – but, most of all, to each other.
Advertisement
Lyrically, it primarily focuses on two aspects of the Carters' lives: their marriage and their success. (more…)
Rachel Griffiths: female characters are finally getting real on screen
Almost a year into the #MeToo era, Rachel Griffiths believes the likes of Mystery Road, Wentworth, P..
Almost a year into the #MeToo era, Rachel Griffiths believes the likes of Mystery Road, Wentworth, Picnic at Hanging Rock and Top of the Lake show that female characters are finally coming of age on Australian screens.
In a spirited speech at the launch of a new state government scheme to support more women directors in television, the actor-turned-director said it was exciting to see female characters move beyond "the typical tropes of 'likable, f—able, adorable'" to "more complex depictions of female experience" recently.
While she acknowledged there were male directors who created fresh and compelling women characters, Griffiths said the "male gaze" often reduced them to colouring the characters of their male counterparts.
"[They are created to] make him hot, make him authentic, make him empathetic, make him fatherly, make him conflicted, make him grieve," she said. "In the male gaze, we are so often not the gatekeepers; we're not the ferryman. Sometimes the mentor but usually only ironically, like Judi Dench's M…
"Under-written and under-observed, brought into our sexual awareness precociously and prepubescent in order to accommodate the male libido.
Advertisement
"Often in television we're used by lazy writers and producers who can think of nothing more interesting this week than 'let's have her have sex with X' or 'discover she's a lesbian – for an episode'."
Griffiths, who is about to begin editing the Melbourne Cup drama Ride Like A Girl after finishing the shoot, endorsed Hollywood star Sandra Bullock's recent comment that it was time for women to "stop being polite" about gender equality. (more…)
Rachel Maddow breaks down on air over Trump immigration policy
US television host Rachel Maddow has broken down on live air as she delivered the latest development..
US television host Rachel Maddow has broken down on live air as she delivered the latest developments in the Trump administration's controversial "zero tolerance" immigration policy.
Maddow, who hosts her own show on MSNBC, was reading from a breaking news release from the Associated Press that revealed government officials have been sending babies and toddlers to what are being called "tender age" shelters in the US.
The youngsters are some of the 2,300 children who have been forcibly separated from their parents at the US-Mexico border since the White House announced a zero-tolerance policy on migrant families in May.
"The AP has just broken some new news," Maddow started.
"Um, this has just come out from the Associated Press, this is incredible. Trump administration have been sending babies and other young children – oh, hold on," she said, her voice breaking.
Advertisement
Maddow attempted to get through the breaking news piece one more time before moving the show over to a guest. "To at least three – three tender age shelters in South Texas. Lawyers and medical providers… I think I'm going to have to hand this off. Sorry."
Maddow took to Twitter shortly after the segment aired to say sorry to her viewers. "Again, I apologise for losing it there for a moment," she wrote. "Not the way I intended that to go, not by a mile."
She also tweeted out what she had been trying to say in her live read, writing out what was presented in the AP story. "Lawyers and medical providers who have visited the "tender age" shelters described play rooms of crying preschool-age children in crisis…" she wrote.
"Decades after the nations child welfare system ended the use of orphanages over concerns about the lasting trauma to children, the administration is standing up new institutions to hold Central American toddlers that the government separated from their parents." (more…)