What's on TV: Wednesday, April 25
Hugh Laurie will truly be remembered as the master of playing medical professionals with names that ..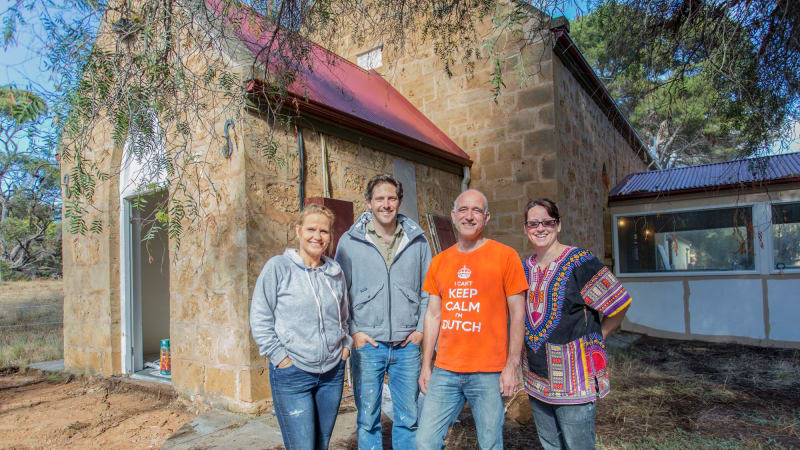 Hugh Laurie will truly be remembered as the master of playing medical professionals with names that are also common nouns. After his triumphant turn as House, he returns (two years ago, but that's Aussie TV for you) as Chance, a forensic neuro-psychiatrist with secrets that set him apart from all the regular run-of-the-mill neuro-psychiatrists you see on television nowadays. The world of Chance is a dark and disturbing place, much more so than the relatively jolly universe of fatal disease that House inhabited; and perhaps even more so than Laurie's other memorable star turn in Blackadder. Dealing with his inner demons and a crumbling marriage, Dr Eldon Chance allows an attractive patient to draw him into a deadly web of violence and corruption. In attempting to save her from her abusive husband, Chance finds himself getting in over his head, and falls in with a slightly deranged mercenary who is all the more unnerving for being played by Randy, from My Name Is Earl. It's something of a Breaking Bad-esque tale, a mild-mannered man of science falling into a criminal rabbit hole in the search for adventure. The fact this show has already been cancelled suggests it won't quite reach the iconic status of that show, but it's more than worth a watch – pretty much anything with Hugh Laurie in it is, after all. BP
Renoir (2012)
SBS, 11.55pm
Many novelists and filmmakers have told stories about artists and their models. Such stories can give fascinating insights into the complex relationship between artist and muse, irrespective of whether the muse is a person or a figment of someone's imagination. In Gilles Bourdos' Renoir, Michel Bouquet plays Pierre-Auguste Renoir in his final years at Cagnes-sur-Mer. Bouquet has long been one of the greatest actors of French cinema, and this film is worth watching for him alone. However, Renoir is also interesting in ways one might not expect, especially in its telling of the true-story relationship between Renoir and a young woman, Andree Heuschling (Christa Theret), who forces her way into the painter's Mediterranean retreat and pressures him into making her his new model and muse. Ravishingly photographed by Mark Lee Ping Bin (Norwegian Wood), this is an intelligent and delicate film, surprising and reassuring, and filled with soft, sensual pleasures. SM
PAY TV
Selling Houses Australia
Lifestyle, 8.30pm
Andrew Winter and friends have another tricky one tonight. They're off to Traralgon to try to do something with an unfashionable 40-year-old Spanish-style house in a regional market flooded with homes old and new. But owners Rosa and Emilio, who came to Australia from Italy as children and who designed and built the place themselves, are so lovely that the Selling Houses Australia team is doubly determined to get a result. What follows is a lesson in how to make the most of your available space, both inside and out. Shaynna Blaze and her infectious cackle are soon hard at work on the cluttered living-area layout, giving the house a much-needed fourth bedroom without making it feel much smaller at all. Outside, Charlie Albone opens up the equally cluttered gardens by doing away with potted plants, ornaments and old concrete. As entertaining and thoroughly practical as ever. BN
So, we guess this means Beyonce and Jay-Z are OK then
The first couple of pop music took the world by surprise by dropping their first album together last..
The first couple of pop music took the world by surprise by dropping their first album together last weekend. As you'd expect, it's a statement.
There is arguably no couple better at controlling their own press than Beyonce and Jay-Z. When a video surfaced in 2014 showing Bey's younger sister Solange attacking her brother-in-law in an elevator, rumours of a strained marriage proliferated.
Rather than battle the tabloids, the spouses used the gossip to fuel the creation of two critically beloved, commercially successful records: Beyonce's Lemonade and Jay-Z's 4:44. And, in them, they offered just as many details about their private lives as they chose.
Now the couple have continued their domination of pop music, surprising the world last Saturday by releasing their joint album Everything Is Love, which is something of a sequel to those two solo records. Though they have collaborated for at least 15 years, this marks their first joint album, which they dropped under the name The Carters.
The record is a victory lap from a couple who have mined their relationship for universal truths and then presented them as art. It's a fierce love letter to success, to family, to blackness – but, most of all, to each other.
Advertisement
Lyrically, it primarily focuses on two aspects of the Carters' lives: their marriage and their success. (more…)
Rachel Griffiths: female characters are finally getting real on screen
Almost a year into the #MeToo era, Rachel Griffiths believes the likes of Mystery Road, Wentworth, P..
Almost a year into the #MeToo era, Rachel Griffiths believes the likes of Mystery Road, Wentworth, Picnic at Hanging Rock and Top of the Lake show that female characters are finally coming of age on Australian screens.
In a spirited speech at the launch of a new state government scheme to support more women directors in television, the actor-turned-director said it was exciting to see female characters move beyond "the typical tropes of 'likable, f—able, adorable'" to "more complex depictions of female experience" recently.
While she acknowledged there were male directors who created fresh and compelling women characters, Griffiths said the "male gaze" often reduced them to colouring the characters of their male counterparts.
"[They are created to] make him hot, make him authentic, make him empathetic, make him fatherly, make him conflicted, make him grieve," she said. "In the male gaze, we are so often not the gatekeepers; we're not the ferryman. Sometimes the mentor but usually only ironically, like Judi Dench's M…
"Under-written and under-observed, brought into our sexual awareness precociously and prepubescent in order to accommodate the male libido.
Advertisement
"Often in television we're used by lazy writers and producers who can think of nothing more interesting this week than 'let's have her have sex with X' or 'discover she's a lesbian – for an episode'."
Griffiths, who is about to begin editing the Melbourne Cup drama Ride Like A Girl after finishing the shoot, endorsed Hollywood star Sandra Bullock's recent comment that it was time for women to "stop being polite" about gender equality. (more…)
Rachel Maddow breaks down on air over Trump immigration policy
US television host Rachel Maddow has broken down on live air as she delivered the latest development..
US television host Rachel Maddow has broken down on live air as she delivered the latest developments in the Trump administration's controversial "zero tolerance" immigration policy.
Maddow, who hosts her own show on MSNBC, was reading from a breaking news release from the Associated Press that revealed government officials have been sending babies and toddlers to what are being called "tender age" shelters in the US.
The youngsters are some of the 2,300 children who have been forcibly separated from their parents at the US-Mexico border since the White House announced a zero-tolerance policy on migrant families in May.
"The AP has just broken some new news," Maddow started.
"Um, this has just come out from the Associated Press, this is incredible. Trump administration have been sending babies and other young children – oh, hold on," she said, her voice breaking.
Advertisement
Maddow attempted to get through the breaking news piece one more time before moving the show over to a guest. "To at least three – three tender age shelters in South Texas. Lawyers and medical providers… I think I'm going to have to hand this off. Sorry."
Maddow took to Twitter shortly after the segment aired to say sorry to her viewers. "Again, I apologise for losing it there for a moment," she wrote. "Not the way I intended that to go, not by a mile."
She also tweeted out what she had been trying to say in her live read, writing out what was presented in the AP story. "Lawyers and medical providers who have visited the "tender age" shelters described play rooms of crying preschool-age children in crisis…" she wrote.
"Decades after the nations child welfare system ended the use of orphanages over concerns about the lasting trauma to children, the administration is standing up new institutions to hold Central American toddlers that the government separated from their parents." (more…)