Ballet Revolucion: Sexy? Sensual? It barely matters
"No, no," Sanchez says sternly on a terrible overseas phone line through her interpreter. "It's..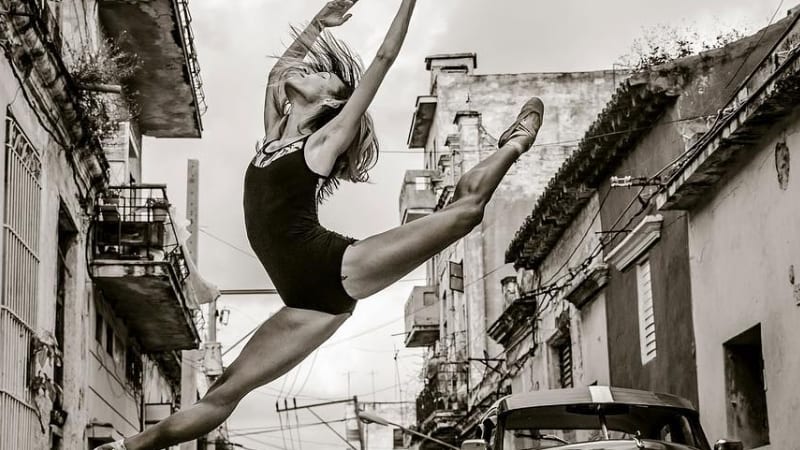 "No, no," Sanchez says sternly on a terrible overseas phone line through her interpreter. "It's not sexy, it's sensual."
Surely something has been lost in translation?
Reviewers who have seen Ballet Revolución usually reach for similar phrases: "Cuban cocktail", "sizzlingly hot-boodied", "a firework of passion", "athletic, sweating bodies".
Sanchez was in Vienna when we spoke (midway through the company's tour of Germany, Austria and Switzerland before arriving in Australia). Perhaps the Germanic reaction to their show had been muted?
"No, no," she says again. "The audiences here have delighted and surprised us. They get a bit crazy. Maybe, Australian audiences will be even less reserved?"
Sanchez is one of the children of the Revolución.
Within two years of overthrowing the corrupt, Mafia-dominated Batista regime, Fidel Castro launched free arts education for all, including both classical ballet and contemporary dance.
Sanchez was a beneficiary (as are all the dancers in Ballet Revolución) of Cuba's extraordinary education system.
Aged eight, she took up classical ballet at primary school in her small town in the country's north-east. By high school, she had been selected to continue her studies in Havana at the national ballet school, and performed in The Nutcracker during a tour of Canada.
Then she turned to the "dark side", thanks to Australian producer Mark Brady.
"Ballet Revolución is my baby," Sydney-based Brady says. "We launched it in Perth in 2011. I'm the producer and creative director. This is the fourth time we've brought Ballet Revolución to Australia, and it is different each time."
Brady discovered Cuban culture in the late 1990s. A professional pianist in his youth, and heir to one of Australia's most prestigious arts agencies/producers, Brady had already scored a major success with Gaelforce (capitalising on the Irish dance phenomenon triggered by Riverdance and Lord of the Dance) when he and a mate went to Cuba.
Their visit resulted in two long-standing productions. The Bar at Buena Vista (a cabaret show concentrating on the venue made famous in Wim Wenders' 1999 documentary film The Buena Vista Social Club) and Ballet Revolución.
"I found an amazing talent pool of dancers and musicians," Brady says. "A lot of the boys and girls in Ballet Revolución were picked out of primary school because they showed talent.
"It took me two years to get (Ballet Revolución) staged. I've worked with the same two choreographers – one Australian (Aaron Cash) and the other Cuban (Roclan Gonzalez Chavez) – for a decade.
"That's the secret ingredient. Two equally brilliant choreographers but with different styles and sensibilities. That gives the show its dynamic."
What can Australian audiences expect of the new show, which features high-energy dance performed to music by Adele, Prince, George Michael, Justin Bieber and Coldplay?
"Passionate, powerful, emotional and energy, both classical and modern, the Cuba of today and tomorrow," says Brady.
"Joy, passion and beautiful dancing," says Sanchez. "There are 18 or 19 numbers, and all of the dancers are involved, so you'll see a lot of me."
But is it sexy?
"There's a lot of skin in the show," Brady says on hearing that Sanchez preferred "sensual" to "sexy".
"They're all so beautiful to look at. Why not show it?"
Ballet Revolucion, State Theatre, May 11-12
Comments disabled
Morning & Afternoon Newsletter
Delivered Mon–Fri.
007 film must treat Bond girls properly, says Waller-Bridge
Fast cars, martinis and Bond girls are core parts of the formula for 007 films, but one of those ele..
Fast cars, martinis and Bond girls are core parts of the formula for 007 films, but one of those elements is set for a change in the latest adventure.
Fleabag creator Phoebe Waller-Bridge, who is working on the script for the 25th Bond film, is on a mission to make sure the movie will "treat women properly" – even if the spy does not.
Ahead of the release of the as-yet-untitled film, Waller-Bridge told Deadline: "There's been a lot of talk about whether or not (the Bond franchise) is relevant now because of who he is and the way he treats women.
"I think that's b*******. I think he's absolutely relevant now. It has just got to grow.
"It has just got to evolve, and the important thing is that the film treats the women properly.
Advertisement
"He doesn't have to. He needs to be true to this character."
Waller-Bridge says she intends to ensure the female characters, including those played by Lashana Lynch, Lea Seydoux and Ana de Armas, feel "like real people ".
More from Phoebe Waller-bridge
She added: "I just want to make sure that when they get those pages through, that Lashana, Lea and Ana open them and go, 'I can't wait to do that'.
"As an actrRead More – Source (more…)
Sir Elton hits out at Russia for 'cruel' Rocketman censorship
Sir Elton John has criticised Russian censors for cutting gay sex scenes from the hit musical biopic..
Sir Elton John has criticised Russian censors for cutting gay sex scenes from the hit musical biopic Rocketman.
The critically acclaimed film charts the British singer's rise to fame, and its scenes of kissing and sex between men, as well as drug use, contributed to it earning a 15 certificate in the UK.
But in a bid to play down the sexuality of Sir Elton, played by actor Taron Egerton, for a conservative Russian audience, an estimated five minutes of footage was reportedly removed ahead of its debut in Moscow.
The Moscow Times quoted a Russian film critic who had seen the film at its world premiere in Cannes on 16 May as saying "all scenes with kissing, sex and oral sex between men have been cut", as well as a photo displayed during the end credits featuring Sir Elton and his husband David Furnish.
Sir Elton, 72, a prominent gay rights campaigner, released a joint statement with the makers of the film to accuse censors of being "cruelly unaccepting of the love between two people".
Advertisement
"We reject in the strongest possible terms the decision to pander to local laws and censor Rocketman for the Russian market, a move we were unaware of until today," they said.
"That the local distributor has edited out certain scenes, denying the audience the opportunity to see the film as it was intended, is a sad reflection of the divided world we still live in and how it can still be so cruelly unaccepting of the love between two people.
More from Elton John
"We believe in building bridges and open dialogue, and will continue to pushRead More – Source
Ben Affleck steps out to drop off kids as Robert Pattinson is announced as new Batman
Ben Affleck played Batman until earlier this year (Picture: Backgrid)
Ben Affleck has been pictured ..
Ben Affleck has been pictured performing his parental duties in Los Angeles, as his official replacement in the Batman role is announced.
The 46-year-old actor was seen in the early hours on Friday (31 May) dropping off son Samuel, seven, and daughter Seraphina, 10, to school.
Affleck has three children with ex-wife Jennifer Garner – Seraphina, Samuel and 13-year-old Violet.
On the same day the actor was pictured, it was announced Robert Pattinson will take over as Batman in a planned trilogy of movies with director Matt Reeves.
Affleck, who played Bruce Wayne in Batman V Superman: Dawn Of Justice and 2017s Justice League, stepped down from the role in January earlier this year – after being originally down to direct and star in his own film.
Advertisement
Advertisement
Speaking about his departure in March, Affleck stated how he was never happy with the script they were planning to use.
We worked on the script, I was trying to figure out how to cRead More – Source