Sydney Comedy Festival is beyond a joke
"We're mainly in the inner [city], but we've booked shows at Chatswood, we get out to Parr..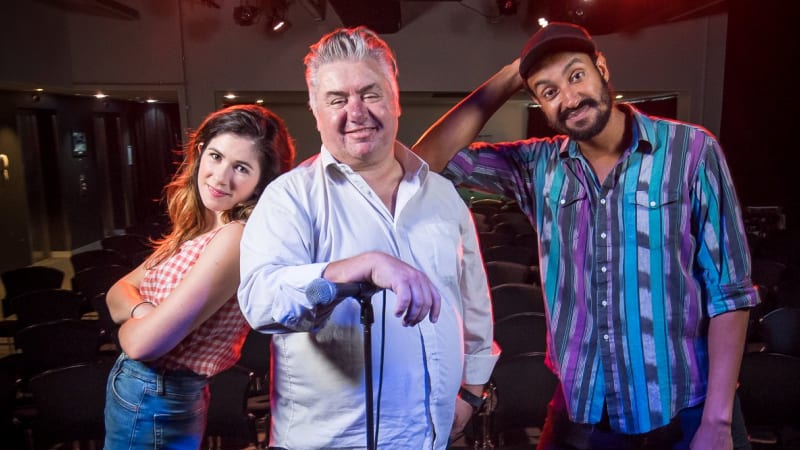 "We're mainly in the inner [city], but we've booked shows at Chatswood, we get out to Parramatta," Menidis says. "We're kind of everywhere."
When it first started, the festival had about 30 acts, and international performers were the big drawcards.
"Now it's the Australians who are the real standouts," he says. "We still second-guess ourselves and generally don't recognise we have world-class talent."
The festival scours the world's festivals, such as the Edinburgh Festival and Canada's Just For Laughs, to bring international acts and fan favourites Down Under.
Yet it also has the knack of picking future local stars such as Ronny Chieng, who first appeared on the bill in 2011, and now appears regularly on The Daily Show with Trevor Noah.
"We're pretty chuffed with the number of people that we had on our Fresh [program] that have gone on to have massive careers," Menidis says.
"There are emerging comedians like Becky Lucas. She's writing, she's performing, she's very funny … and you can put her up against anybody around the world."
Menidis says Sydney's comedy landscape has become "far more interesting" and nuanced over the years. He thinks we have always had diverse acts, but they were "siloed".
"Way back when the guys were doing Wogs Out Of Work, they weren't mixing with the general population, so to speak. I think today a lot more people are prepared to try things and it's really a reflection of where society is at."
Menidis believes Australians have no problem laughing at themselves.
"We have a fairly healthy sense of humour … other than maybe [about] our cricket team."
As for the eternal question – will Sydney ever steal Melbourne's comedy crown? – he says we should forget about the rivalry and celebrate a golden period of Australian comedy.
"There's so much good comedy coming out of Sydney. The comedy scene is so healthy," he says.
The Sydney Comedy Festival runs from April 23 to May 20, www.sydneycomedyfest.com.au.
Something for everyone
Jorge Menidis and Charles Purcell run their eye over this year's line-up.
Reliable laughs
British "surrealist" Ross Noble is legendary for mind-bending shows that go from A to Z via X. Enmore Theatre, April 19-20, Concourse, April 21. JM
"The irrepressible Urzila Carlson leaves no stone unturned in mining laughs," Menidis says. Enmore Theatre, April 26-27. Concourse, April 28. JM
Perennial festival favourite Stephen K. Amos ponders a world featuring Trump, Brexit and "no more Mary Berry on the Great British Bake Off" during Bread & Circuses. Enmore Theatre, May 4. Concourse, May 5. JM
Bright new talent
Shayne Hunter is one of the stars of Fresh, the festival showcase of the best emerging comedians. "Exciting, political and refreshingly opinionated," Menidis says. Enmore Theatre, May 3-6. JM
Who knows what makes Millennials laugh? Charisa Bossinakis does, rhapsodising about Tinder, yoga posers and "whore hierarchies". Give her a big cheer as she presents her first hour of comedy in Boss. Factory Theatre, May 9 and 11. JM
On the edge
Menidis nominates "wolf in sheep's clothing" Daniel Sloss for his ability to challenge society's norms. "His last show encouraged everyone in a relationship to question the veracity of the relationship. He ended up celebrating the over 100 people who broke up after seeing his show!" Enmore Theatre, April 28. JM
Heath Franklin turned his impression of late gangster Mark "Chopper" Read from a TV skit to a stage sensation. If you only see one parody of an ex-con who cut off his ears in prison, see this one. Enmore Theatre, May 17-20. JM
Take your mum
Menidis claims all the festival's shows are "mum friendly", however, your mum should love Menopause The Musical, aka the "Mousetrap of menopause musicals". Factory Theatre, May 9. CP
Mother-of-five Fiona O'Loughlin is riding high after winning I'm A Celebrity Australia. She'll deliver the gift of "lols" during Gap Year. Factory Theatre, May 12-13. JM
Menidis nominates cheeky Scot Craig Hill: "Bawdy, loud and very rude … brilliant for the whole family." Factory Theatre, April 26-29. JM
Leave her at home
Mum probably wouldn't appreciate a battle where contestants trade "yo mama" insults based on topics straight from the audience. You might, though. Yo Mama Battle! X, Factory Theatre, May 10-11. CP
The Hamburger, The Eiffel Tower, the see-it-to-believe-it Loch Ness Monster … you'll behold them all during Puppetry Of The Penis. Concourse, May 1. Enmore Theatre, May 5. JM
Fat Pizza star Pauly Fenech has been going for the comic jugular ever since he won Tropfest in 1998 under an assumed name. Hear him recite comic psalms from his politically incorrect Bogan Bible. Factory Theatre, April 27. JM
First date
We're not sure what it takes to amuse a moose, but Scotland's Larry Dean does, winning the Amused Moose Best Comedy Award at the Edinburgh Fringe. "Your partner will fall in love with him," Menidis says. Comedy Store, May 3-5. JM
"He makes you feel like you're hanging out with your mate," Menidis says of Matt Okine. You might already love him from his hit series The Other Guy on streaming service Stan. Enmore Theatre, May 11. JM
Best group acts
Menidis reckons you should give cult Sydney improvisers The Bear Pack a go: "Steen [Raskopoulos] and Carlo [Ritchie] are incredible and should be lauded." Giant Dwarf, April 26-28. JM
Edinburgh Fringe award winners the Kagools (yes, they have an Amused Moose on their mantlepiece, too) bust out all-new anarchic antics during Kula. Factory Floor, April 28-29. CP
See a curated selection of the best established and emerging stars during the Sydney Comedy Festival Gala. Various locations, from April 23. CP
Local heroes
Becky Lucas was named as one of Buzzfeed's 27 funniest Australian comedians on Twitter and also wrote for the Emmy-nominated Oz show Please Like Me. Factory Theatre, April 16-20. JM
In 2012, the SMH's Metro section listed Rhys Nicholson as one of its top 10 local comedians to watch. Now the ARIA nominee is bona fide star of stage and screen. Factory Theatre, May 17-20. JM
Sharp, funny, relatable … Kitty Flanagan has long been one of our favourite local comics. Enmore Theatre, May 5. JM
Plain weird (but brilliant)
"This will be the craziest comedy show at the whole ruddy festival," Sam Campbell says of The Trough. At least one actual snake is also promised. Factory Theatre, May 2-6. JM
Award-winning absurdist Fran Middleton also gets the nod from Menidis for her show Franny Pack, which "may contain traces of Bjork, spit and your mum". Enmore Theatre, May 3-6. JM
Wild card
There's nothing up their sleeves … mostly because The Naked Magicians don't have any. Kit-off abracadabra at its finest. Concourse, April 24. JM
Netflix star and former Orthodox Jew-turned-cynical-atheist Ari Shaffir shares hilarious tales from his life in Heretic. Factory Theatre, April 28-29. JM
Comments disabled
Morning & Afternoon Newsletter
Delivered Mon–Fri.
007 film must treat Bond girls properly, says Waller-Bridge
Fast cars, martinis and Bond girls are core parts of the formula for 007 films, but one of those ele..
Fast cars, martinis and Bond girls are core parts of the formula for 007 films, but one of those elements is set for a change in the latest adventure.
Fleabag creator Phoebe Waller-Bridge, who is working on the script for the 25th Bond film, is on a mission to make sure the movie will "treat women properly" – even if the spy does not.
Ahead of the release of the as-yet-untitled film, Waller-Bridge told Deadline: "There's been a lot of talk about whether or not (the Bond franchise) is relevant now because of who he is and the way he treats women.
"I think that's b*******. I think he's absolutely relevant now. It has just got to grow.
"It has just got to evolve, and the important thing is that the film treats the women properly.
Advertisement
"He doesn't have to. He needs to be true to this character."
Waller-Bridge says she intends to ensure the female characters, including those played by Lashana Lynch, Lea Seydoux and Ana de Armas, feel "like real people ".
More from Phoebe Waller-bridge
She added: "I just want to make sure that when they get those pages through, that Lashana, Lea and Ana open them and go, 'I can't wait to do that'.
"As an actrRead More – Source (more…)
Sir Elton hits out at Russia for 'cruel' Rocketman censorship
Sir Elton John has criticised Russian censors for cutting gay sex scenes from the hit musical biopic..
Sir Elton John has criticised Russian censors for cutting gay sex scenes from the hit musical biopic Rocketman.
The critically acclaimed film charts the British singer's rise to fame, and its scenes of kissing and sex between men, as well as drug use, contributed to it earning a 15 certificate in the UK.
But in a bid to play down the sexuality of Sir Elton, played by actor Taron Egerton, for a conservative Russian audience, an estimated five minutes of footage was reportedly removed ahead of its debut in Moscow.
The Moscow Times quoted a Russian film critic who had seen the film at its world premiere in Cannes on 16 May as saying "all scenes with kissing, sex and oral sex between men have been cut", as well as a photo displayed during the end credits featuring Sir Elton and his husband David Furnish.
Sir Elton, 72, a prominent gay rights campaigner, released a joint statement with the makers of the film to accuse censors of being "cruelly unaccepting of the love between two people".
Advertisement
"We reject in the strongest possible terms the decision to pander to local laws and censor Rocketman for the Russian market, a move we were unaware of until today," they said.
"That the local distributor has edited out certain scenes, denying the audience the opportunity to see the film as it was intended, is a sad reflection of the divided world we still live in and how it can still be so cruelly unaccepting of the love between two people.
More from Elton John
"We believe in building bridges and open dialogue, and will continue to pushRead More – Source
Ben Affleck steps out to drop off kids as Robert Pattinson is announced as new Batman
Ben Affleck played Batman until earlier this year (Picture: Backgrid)
Ben Affleck has been pictured ..
Ben Affleck has been pictured performing his parental duties in Los Angeles, as his official replacement in the Batman role is announced.
The 46-year-old actor was seen in the early hours on Friday (31 May) dropping off son Samuel, seven, and daughter Seraphina, 10, to school.
Affleck has three children with ex-wife Jennifer Garner – Seraphina, Samuel and 13-year-old Violet.
On the same day the actor was pictured, it was announced Robert Pattinson will take over as Batman in a planned trilogy of movies with director Matt Reeves.
Affleck, who played Bruce Wayne in Batman V Superman: Dawn Of Justice and 2017s Justice League, stepped down from the role in January earlier this year – after being originally down to direct and star in his own film.
Advertisement
Advertisement
Speaking about his departure in March, Affleck stated how he was never happy with the script they were planning to use.
We worked on the script, I was trying to figure out how to cRead More – Source