Virgin Galactic boss Richard Branson suspends $1bn Saudi investment over Khashoggi disappearance
Billionaire Richard Branson has suspended talks with Saudi Arabia regarding a planned $1bn investmen..
Billionaire Richard Branson has suspended talks with Saudi Arabia regarding a planned $1bn investment in his space ventures after Crown Prince Mohammad bin Salman was linked to the disappearance of a Washington Post journalist.
Branson, co-founder of Virgin Galactic, announced last October that Saudi Arabias Public Investment Fund was planning to invest $1 billion in his commercial space flight companies. He is now putting the brakes on the investment, as well as distancing himself from participation in two advisory boards linked to the sovereign wealth fund, Branson said in statements to several media.
Read more
Saudi Arabia is known for its repressive speech climate, but the disappearance of Washington Post journalist Jamal Khashoggi, widely blamed on the kingdom, was a step too far for some. The fate of the journalist, who according to some reports was abducted or murdered in Turkey, remains unknown.
Khashoggi was last seen walking into the Saudi consulate in Istanbul on October 2. Saudi and Turkish officials disagree over what happened next – the Saudis claim he left, while the Turks say he was abducted. There is no known footage of the journalist exiting the building.
Khashoggi was one of the foremost critics of Prince Mohammad bin Salman (often shortened to MbS), who was appointed heir to the Saudi kingdom in June 2017. MbS casts himself as a "modernizer" in the hardline Islamic kingdom, though his first act upon coming to power was to imprison many of his rivals in the Riyadh Ritz Carlton until they bribed their way out.
The Washington Post blames MbS directly for Khashoggis disappearance, citing US "intelligence intercept" data that purports to show that the Crown Prince personally issued the order to lure the reporter from his home and detain him.
Despite that, few international executives have followed Bransons lead. US-based media companies remain official sponsors of the Future Investment Initiative, a glitzy conference organized by the Saudi Public Investment Fund. Nicknamed "Davos in the Desert," the upcoming Riyadh conference is a whos who of international financiers and businesspeople, including JPMorgan Chases Jamie Dimon and Ubers Dara Khosrowshahi.
Read more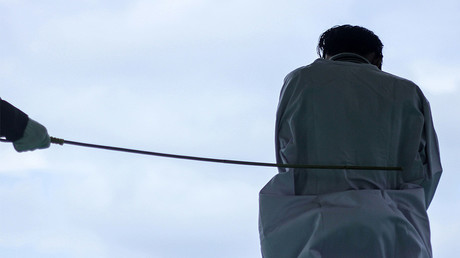 Still, Branson is not the only executive spooked by Khashoggis disappearance. Ernest Moniz, an energy secretary during the Obama administration, walked off the advisory board of a $500 billion Saudi building project. Two Apple executives, Dan Doctoroff and Sir Jonathan Ive, publicly distanced themselves from the kingdom as well, stating they had been included on a list of board members by mistake.
Other executives have hedged their bets. Larry Fink of BlackRock and Bob Bakish of Viacom are "monitoring the situation," according to their spokesmen, while others have been more candid about where their priorities lie. Donald Trump was reluctant to suspend arms sales or consider sanctions, explaining "I dont like stopping massive amounts of money thats being poured into our country." Saudi Arabia is about to spend $110 billion on US military equipment, which it uses to fight a deeply unpopular war in Yemen. The war, with over 10,000 killed and millions on the brink of famine, has been dubbed the worlds worst humanitarian disaster by the UN.
China deploys anti-ship missiles in the desert making them harder to intercept
Beijing has announced it has deployed intermediate ballistic missiles to the country's north-we..
Beijing has announced it has deployed intermediate ballistic missiles to the country's north-west region, saying the weapons have the capacity to destroy US ships entering disputed waters in the South China Sea.
Key points:
The missiles can fire long distances and would be difficult for US ships to shoot down
Defence strategy expert Dr Malcom Davis said the move means China can back up its threats
The news came after a US guided missile destroyer passed through the South China Sea
The DF-26 missiles — which have been previously dubbed the 'Guam Killer' or 'Guam Express' by Chinese media and defence experts — are capable of carrying conventional or nuclear warheads.
They have a range of 4,500 kilometres, making them capable of reaching as far as Guam in the east and Indonesia in the south, providing Beijing with a powerful weapon as tensions continue to rise in the South China Sea.
External Link: @globaltimesnews: China's df-26 missiles
According to Chinese state media publication The Global Times, the DF-26 missiles are now stationed in north-west China's sparse plateau and desert areas, carried on the backs of trucks able to traverse the harsh terrain.
Speaking on condition of anonymity, a Beijing-based military expert told the Times that positioning the missiles deep in China's mainland made them more difficult to intercept as it allowed the missile to enter its final stages at a high speed.
Footage on CCTV showed trucks carrying the missiles driving through rough terrain and sand dunes.
The missiles were first paraded in 2015 and China confirmed they were now operational in April last year, but this is the first footage of the missiles outside of a parade.
It is unclear when the missiles were moved to the northwest region, the Times reported. (more…)
Melbourne driver who cheated death when sign fell on car in no rush to drive again
Related Story: Dashcam footage shows moment car was crushed by falling freeway sign
The Melbourne ..
Related Story: Dashcam footage shows moment car was crushed by falling freeway sign
The Melbourne driver who cheated death when an overhead road sign fell and crushed her car says she cannot believe such an accident could happen in Australia.
Key points:
A second sign on the Tullamarine Freeway has been taken down as a precautionary measure
An inspection of similar-sized sign and gantries is underway
VicRoads says an independent investigator has been brought in to determine what happened
Extraordinary dashcam footage shows the moment the five-by-four metre sign fell in front of, and then on top of, Nella Lettieri's car as she was travelling on Melbourne's Tullamarine Freeway earlier this week.
While the 53-year-old was not seriously injured, she is bruised and battered — and wondering how she is still alive.
"It felt like a roller door had slammed shut in front of me," Ms Lettieri said.
"I've gone to swerve, but as I swerved, it just felt like the sign was actually falling on the car.
"And it just kept bouncing, and I felt like it was pushing me to the right, and I'm thinking, 'OK, is it going to stop?'"
She thought the metal object may have been from a plane landing or taking off from the nearby Essendon Airport, or from a truck on the freeway.
But she was shocked to discover it was actually an overhead sign, meant to be directing drivers to their destination. (more…)
In his Brexit speech in Wakefield, Jeremy Corbyn again demanded the impossible
Speaking in Wakefield this morning, Jeremy Corbyn restated his demand for a solution to the Brexit i..
Speaking in Wakefield this morning, Jeremy Corbyn restated his demand for a solution to the Brexit impasse that appears effectively impossible: a general election.
In what is likely to be his last major public statement before MPs vote on the withdrawal agreement next Tuesday, he attempted to redefine the terms of the question facing both the Labour leadership and its MPs – from those that threaten to stretch his fissiparous electoral coalition to breaking point, to those which, on paper, unite it.
That resulted in a speech whose thrust was an appeal to class consciousness from Remainers in Tottenham and Leavers in Mansfield, rather than any meaningful debate over the validity or viability of Brexit itself. "Youre up against it," Corbyn said, citing austerity, stagnant wages, and the cost of living crisis, "but youre not against each other."
Accordingly, his cursory repetition of Labours policy – that a second referendum should remain on the table as an option in the event a general election does not happen – came with a caveat so huge that it amounted to an implicit dismissal of a so-called peoples vote. "Any political leader who wants to bring the country together cannot wish away the votes of 17 million people who wanted to leave, any more than they can ignore the concerns of the 16 million who voted to remain."
But despite the fact that his attention was more or less exclusively focussed on the question of what sort of future relationship with Europe would negotiate – with the fact of the divorce undisputed – Corbyn categorically ruled out doing anything but whipping his MPs to vote against the withdrawal agreement. The vast majority of them will do so on Thursday, after which point Corbyn said, as expected, that Labour would table a motion of no confidence in the hope of securing an election and with it the chance to renegotiate Brexit (rather than, say, holding a second referendum).
Notably, however, he did not specify a timescale for tabling a confidence vote after Mays deal falls – despite several of his shadow cabinet ministers insisting that he would do so "immediately". He instead put on the record the more cautious line briefed by his team yesterday: "Labour will table a motion of no confidence in the government at the moment we judge it to have the best chance of success."
That statement of intent was followed with a caveat seldom offered by shadow cabinet ministers sent out to spin the partys line on Brexit. "Clearly," Corbyn said, "Labour does not have enough MPs in parliament to win a confidence vote on its own." As he himself alluded to when he urged opposition MPs to join Labour in voting against the government, Labours chances remain slim until such time that the ten DUP MPs drop the government. (That every other party will is a racing certainty.) Paradoxically, the defeat of the withdrawal agreement – and with it the backstop Mays sometime coalition partners object to – will make that chance even slimmer.
We know from what Corbyn said this morning that the Labour leadership will not whip its MPs to approve Theresa Mays Brexit, back a second referendum out of choice – both courses threaten its electoral base in different ways – or support any attempt by Downing Street to make the Brexit deal more amenable to Labour MPs by tacking on guarantees on workers rights. That strategy has held until now.
But failure to roll the pitch for any alternative at all – or, indeed, for the inevitable breakdown in party discipline after Mays vote is defeated and Labour has no way to bind MPs who seek mutually exclusive Brexit aims – will make the messy politics of the aftermath of next Tuesday rather more difficult to finesse.
Patrick Maguire is the New Statesman's political correspondent. (more…)