UN chief calls for compliance with rules of war to protect civilians, deplores violations
Following are UN Secretary-General António Guterres remarks to the Security Council meeting on the p..
Following are UN Secretary-General António Guterres remarks to the Security Council meeting on the protection of civilians in armed conflict, in New York today:
I thank the Government of Indonesia for convening this open debate on the protection of civilians in armed conflict.
This year marks the seventieth anniversary of the Geneva Conventions, a cornerstone of international humanitarian law. And it is with enormous pleasure that I see with us Peter Maurer, the President of the International Committee of the Red Cross (ICRC), the guardian of these Conventions.
It also marks the twentieth anniversary of the Security Councils adoption of the protection of civilians as an item on its agenda — a response to the Councils "deep concern" at the erosion of respect for international humanitarian law. However, while the normative framework has been strengthened, compliance has deteriorated. We are rightly critical when assessing the state of the protection of civilians, for there is great cause for concern.
But, let us first recall that we have seen some progress over the last 20 years. A culture of protection has taken root in the Security Council and across the United Nations. To use the Councils own words, protection of civilians is "one of the core issues" on its agenda. A comprehensive protection framework now exists, based on international law and Security Council practice.
The protection of children and of all civilians from the loathsome acts of sexual violence in conflict has been strengthened through the deployment of specialist advisers in peace operations, reinforcing the work of humanitarian agencies. Monitoring and reporting on grave violations against children in conflicts and engagement with warring parties has led to the demobilization and reintegration of thousands of children. And Security Council-mandated United Nations peace operations have protected and saved countless civilian lives.
In South Sudan, nearly 200,000 internally displaced people are currently sheltering at sites for the protection of civilians. In the Central African Republic, the United Nations mission has supported local peace and ceasefire agreements that are monitored by civilian and military components. Civilian casualty recording by the United Nations in Afghanistan has led to the adoption of measures by pro-Government forces to minimize harm.
Millions of civilians receive cross-border humanitarian assistance in Syria. And war criminals, from Cambodia to the former Yugoslavia, have been tried and convicted. Security Council resolutions on the protection of medical care in armed conflict and on conflict and hunger have given important focus and urgency to these issues. I look forward to working with Member States to ensure that they are implemented.
But, despite these advances, grave human suffering is still being caused by armed conflicts and lack of compliance with international humanitarian law. As my report underlines, civilians continue to make up the vast majority of casualties in conflict. In 2018 alone, the United Nations recorded the death and injury of more than 22,800 civilians in just six countries: Afghanistan, Iraq, Mali, Somalia, South Sudan and Yemen. In Idleb, in north-west Syria, we saw a new wave of shelling and air strikes against hospitals, schools, markets and camps for the displaced, killing, wounding and creating panic among the civilian population.
In all conflicts, when explosive weapons were used in populated areas, 90 per cent of those killed and injured were civilians. Overall, some 1.4 million people were newly displaced across international borders, while a further 5.2 million were internally displaced. Widespread access constraints jeopardized humanitarian and medical assistance to civilians in need.
Violence against humanitarian and medical workers and facilities persisted. The World Health Organization (WHO) recorded 705 attacks against health-care workers and facilities in just eight conflicts, resulting in 451 deaths and 860 injuries. Three hundred and sixty-nine aid workers were kidnapped, wounded or killed. And starvation of civilians was used as a method of warfare, as well as rape and sexual violence.
Chief among our challenges is enhancing and ensuring respect for and compliance with international humanitarian law in the conduct of hostilities. In many cases, our information suggests that respect for those bodies of law is at best questionable; in others, and as detailed in several of my country-specific reports, we have witnessed blatant violations.
Nonetheless, there are examples where warring parties respect the law and are implementing precautions, collateral damage estimation and other efforts to minimize the impact of fighting on civilians. These practices must be implemented effectively and standardized across parties and theatres of operation. And greater attention must be paid to those who are already vulnerable during peace time — such as the elderly, children and the disabled — who are rendered all the more vulnerable and in need of protection during flight and conflict.
We must also take urgent action to reduce the humanitarian impact of urban warfare, and in particular, of explosive weapons. Member States should do more to condition arms exports on respect for international humanitarian law and human rights law. And they must call for greater respect for the law and protection of civilians by parties to conflict, and in particular, partner forces, including in the context of multinational coalition operations.
We also need greater progress on accountability by closing the gap between allegations of serious violations and their investigation and prosecution. Progress is needed most at the national level. My report recommends action in three areas.
First, to develop national policy frameworks that establish clear institutional authorities and responsibilities for the protection of civilians in armed conflict. Second, principled and sustained engagement by humanitarian organizations and others with non-State armed groups to negotiate safe and timely humanitarian access and promote compliance with the law. Third, ensuring accountability for serious violations.
The United Nations Security Council, as a practical matter, can do much to enhance compliance with the laws of war. This includes providing financial and technical assistance to support the investigation and prosecution of war crimes in conflict-affected States. We also need action at the global and multilateral levels.
For the Security Council, this means being more consistent in how it addresses protection concerns within and across different conflicts, and being more comprehensive in terms of, for example, grappling with the protection challenges of urban warfare. And it means keeping todays conversation going, with Member States, United Nations actors and civil society engaging on a sustained basis to implement the actions I have outlined.
For, as bleak as the current state of protection is, there is considerable scope for improvement if we each do our utmost to promote and implement the rules that bind us to preserve humanity in war. This is the best way that we can honour the twentieth anniversary of the protection agenda. We have the rules and laws of war. We all now need to work to enhance compliance.
List of Arabic Media Outlets
Online Arabic Newspapers Throughout the Arab World
Popular World Arabic Newspapers
Algeria Online N..
Fact Finding Mission to Libya – Diaries by Sameh Habeeb
The ongoing instability in Libya and the complicated political situation since 2011 continue to prod..
The ongoing instability in Libya and the complicated political situation since 2011 continue to produce security and economic repercussions across the Mediterranean particularly to Southern European countries. The complexity of the situation makeσ it almost impossible to soundly diagnose and understand the "politics of division" dominatιng the east and western regions of Libya. The recent offensive of General Khalifa Haftar demonstrates that the Libyan Crisis is deepening and far from over.
To fully understand the situation in Libya, International Centre for Relations & Diplomacy (ICRD), and (IPSE) and the newspaper European Interest organised an International Fact finding mission in Tripoli, Libya ( June 7-11), with the participation of area studies experts, politicians, journalists and diplomats from fourteen countries across Europe.
The mission went to the countrys capital, the seat of Libyas Internationally recognised government, and a city under siege. The mission was organised over the course of two months, putting together a team of 30-high calibre participants, whilst taking measures to ensure security and planning meetings with a broad spectrum of government and civic stakeholders on the ground.
Bearing in mind that Tripoli is currently under attack and many governments regard it as a no-go zone, ICRD also faced a number of bureaucratic obstacles, from issuing visas for delegates to ensuring the security of all participants.With the help of the Libyan government, national and international NGOs present on the ground, ICRD was able to secure safe access to a wide array of stakeholders, including civil society, political parties, local councils and local governments, and top government officials.
June 9
After a long journey on the evening of the 8th of June 2019, via Tunis, the mission started its first round of consultations with Libyan local government representatives from across the country, particularly conflict-afflicted regions. The Libyan delegates spoke on length about the challenges they face due to lack of funding and resources from the central government. They also voiced their concerns on security challenges. Interestingly, they also added that in many locations they cant fully operate due to different loyalties of tribes, armed groups to different sides in the east and west of Libya.
Later in the day, the mission met with the political leadership of various political parties. There was a consensus over the condemnation of violence as the means to manage existing power cleavages, while a number of informants spoke at length about the international dimension of the conflict, through local proxies and arms sales, by powers that are seeking part of the oil and gas wealth of Libya. There was also condemnation of the UN position that seeks to retain a balance between the international recognised government and the forces of General Haftar. The term "incompetence" was used on more than one occasion.
A third round of consultations was with civic society organisations, where there was expressed disapproval for foreign involvement that fuels the conflict, especially as regards to encouraging the siege of Tripoli. The condemnation of specific EU member states and Arab Gulf countries was especially vehement. A number of Libyan delegates talked about the need for a Libyan war tribunal, especially in reference to General Haftar.
The mission took note of all speakers, committed only to the principle that conflict resolution must adhere to democratic principles, respect the need to protect civilians, and avoid the use of violence that can irreparably damage the social fabric in Libya. The mission also conveyed a rise in concern over the spillover of national security threats to Europe, particularly via radicalisation and human trafficking from Africa.
Meeting with UN Special Envoy, Ghasan Salame
The delegation held an eye-opening meeting with UN Special Envoy Ghassan Salame to discuss the situation in Libya and the role of the UN. The delegation was briefed about the role of the UN and statistical picture of the ongoing conflict, particularly as regards to internally displaced and casualties. Special Envoy Salame reiterated the UN position of neutrality and invited all parties to find a non violent solution for the current crisis. The ensuing conversation took place off the record.
Field Visit
By the end of the day, our delegation carried out a field visit to a number of sites on the outskirts of Tripoli, including bombarded locations such as the Parliament and residential houses. The field also included a visit to a school that is now converted into a shelter for Internally displaced persons. Our delegation had the chance to speak to the IDPs and listen to their plight such as lack of support, displacement, failure to attend schools and war Trauma.
June 10
Meeting with Al Meshri
The second day of our visit commenced with a briefing and consultation with the President of the High Council of Libya, Khaled Al Meshri, essentially the speaker of parliament.
Al Mashri briefed the delegation about the current situation in Tripoli following the Haftar Offensive. He ruled out talks with General Haftar due to lack of trust, describing the leader of the forces besieging Tripoli as "untrustworthy" that failed to abide by previous agreements made during 6 rounds of negotiations. His view reflects a hardened position, suggesting a point of no return in the conflict. Al Meshri focused on the anger in Tripoli and other cities where people cant get along with their lives due to ongoing fighting and constant attacks on civilian areas on the outskirts of the capital. He also blamed some European and Arab countries who support Haftar in the ongoing offensive.
In response to a question from the delegation about the support the Tripoli government receives from some countries, including weapons or financial support, he clarified that the Government has only imported weapons that are not banned under the UN arms embargo on Libya.
Meeting with Fayez al-Sarraj
The last meeting for our mission was an open discussion with the Chairman of the Presidential Council of Libya and prime minister of the Government of National Accord Fayez Al Sarraj, who condemned the offensive of Haftar against Tripoli and called for an immediate end to all types of hostilities. Sarraj proclaimed the attack illegal and called on international community to step up its efforts to contain the Tripoli offensive. He also asserted that Haftar failed to commit to agreements made during a number of successive rounds of negotiations continuing with an offensive despite his agreement to a ceasefire during negotiations in Abu Dhabi. Al Sarraj also commented on the economic situation and that need for stability thus the Libyans could continue building their country.
Meetings In Tunis
Tunis is the closet neighbour to Libya and experiences the first impact from the ongoing conflict. Since 2011, the country has experience an influx of Libyan refugees and the flow continues, almost uninterrupted, with the flow surging during the peak of the conflict. The small North African country has taken millions of refugees both Libyans; and illegal African refugees, who use the country as Transit point in their journey to Europe.
Our delegation concluded its consultations with meetings at the Tunisian parliament, meeting both MPs and the national security advisor for Tunisias President. These consultations took place in confidence at the Tunisian Parliament, hosted by Ms. latifa Hbashi, chair of Committee For Freedoms and International Relations. The discussion gravitated towards the Libyan Crisis and the impact on Tunis. The meeting concluded that Tunis has not received enough support from European Union in dealing with the Libyan refugees nor illegal immigrants. Tunsian MPs added that the country is increasingly vulnerable to terrorism due to crisis in Libya and needs additional support from the International community.
Finally, the delegation then met with the National Security Advisor of the President, Kamel Akrout, to discuss the implications of Libyan conflict on Tunisia. The consultation broadly resulted in the conclusion that a resolution of the conflict in Libya can only be achieved through diplomatic means. He also added that Libyan Government in Tripoli must take the initiative in improving the domestic situation, pointing to a number of lost opportunities since 2016.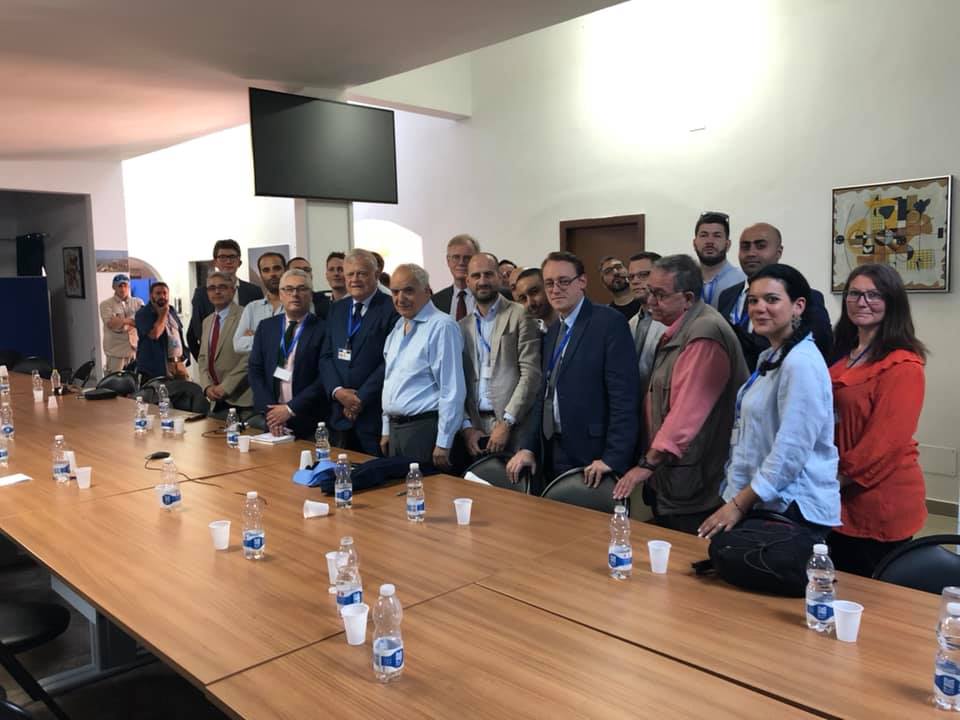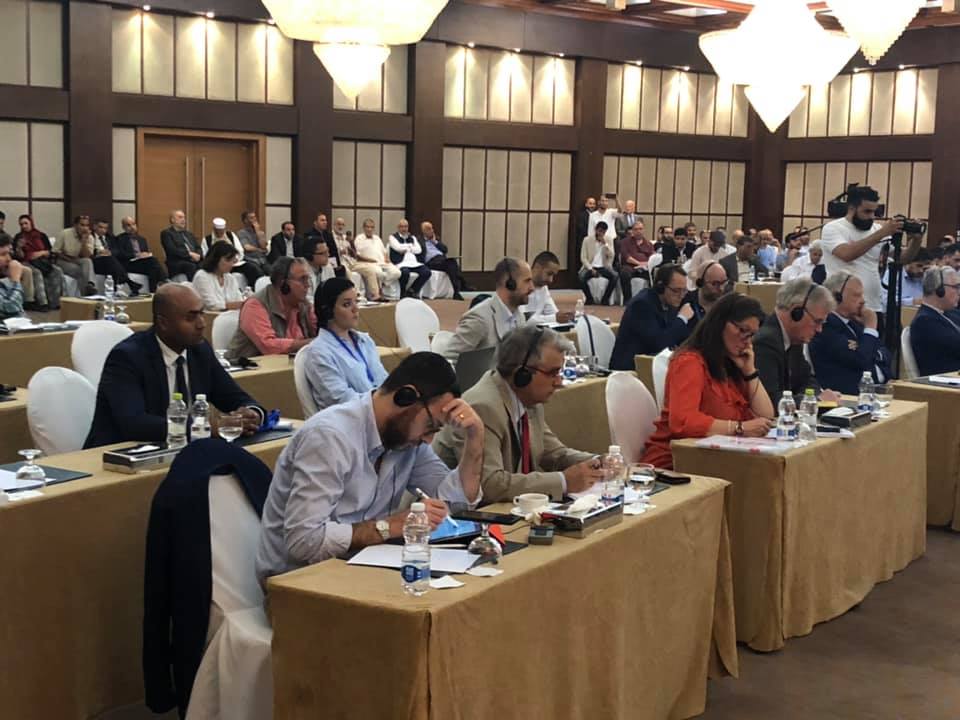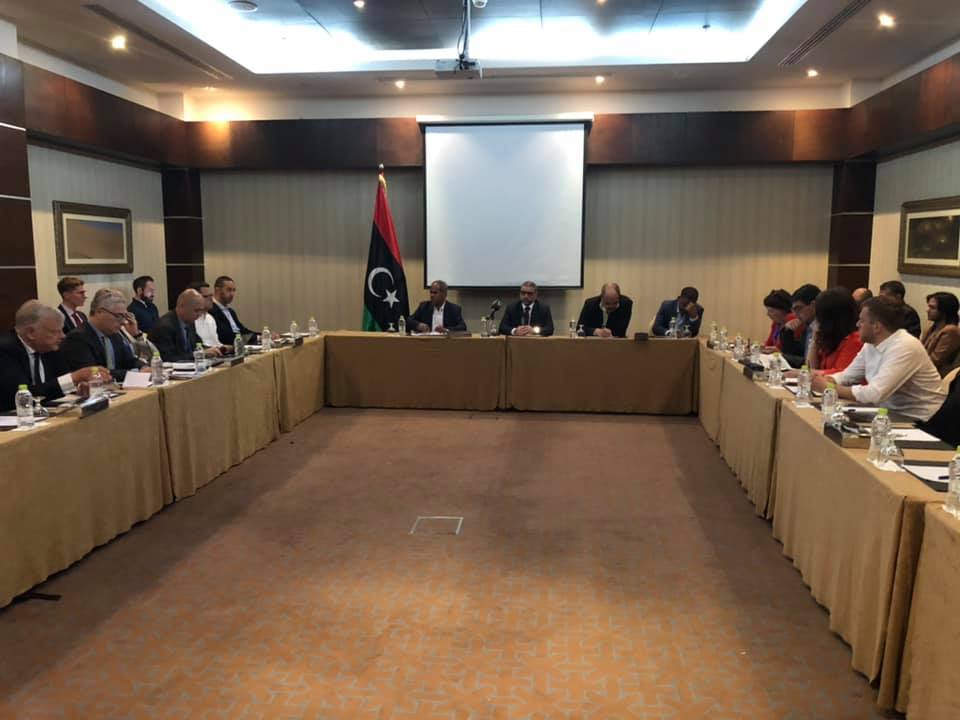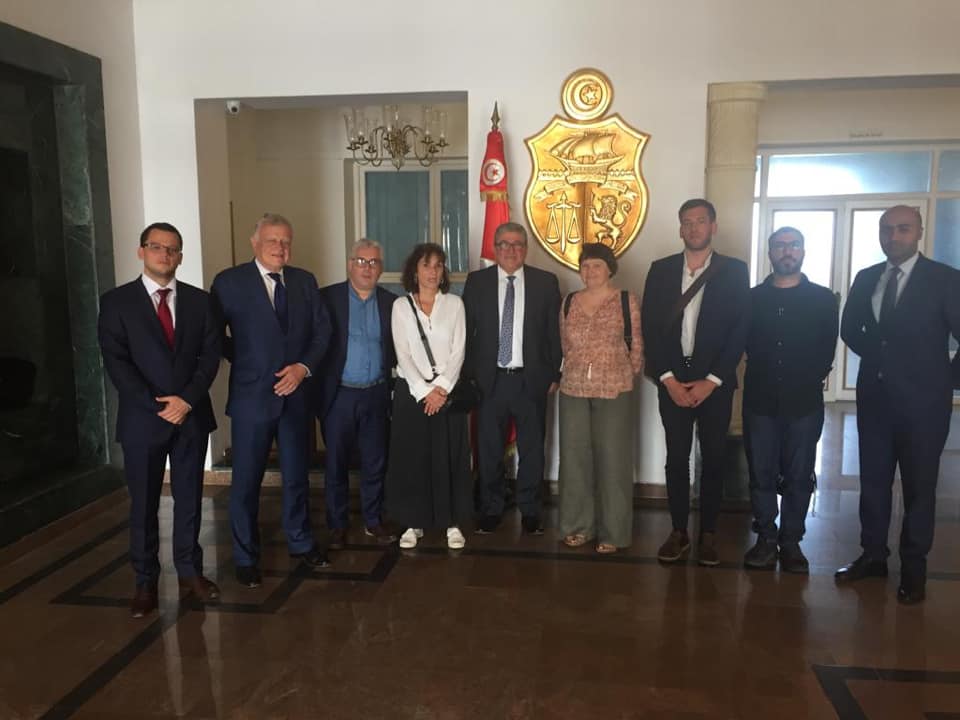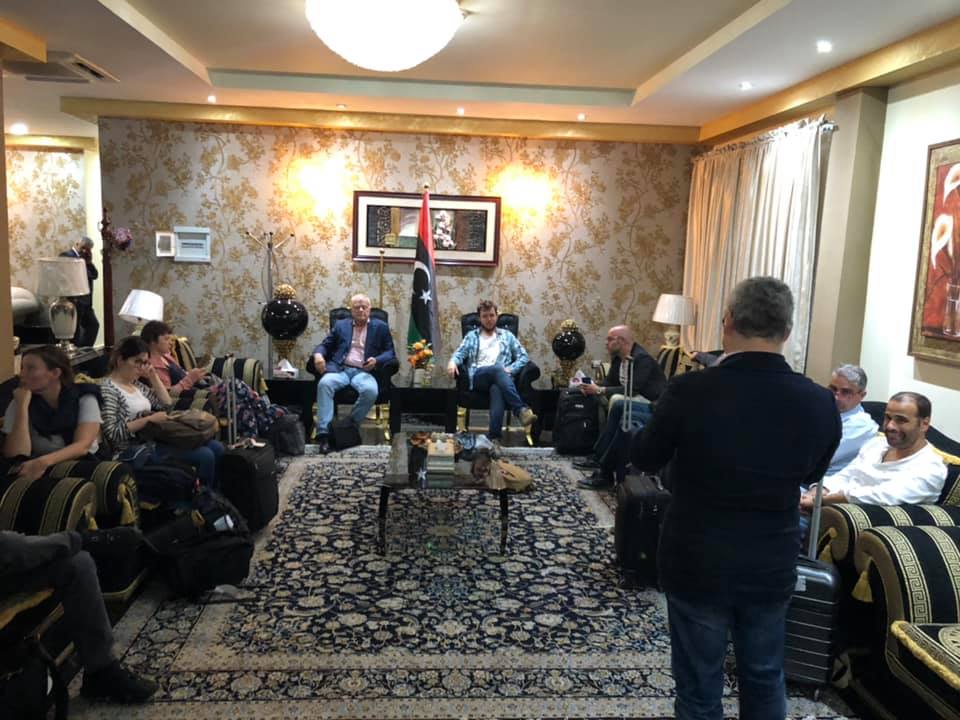 By Sameh Habeeb
Sameh Habeeb is a British Journalist and Middle East Expert. He is the founder and director of think tank organisation "International Centre For Relations & Diplomacy. Habeeb is also a co-founder of various media projects and has long history of working with Governments, Politicians and Parliamentarians across Europe and other parts of the world.

[contfnewc]
Domestic Abuse: MPs urge Government to introduce measures so migrant women access adequate protection
A group of cross-party MPs – including Diane Abbot, Jess Phillips, Nicky Morgan, Anna Soubry, Caroli..
A group of cross-party MPs – including Diane Abbot, Jess Phillips, Nicky Morgan, Anna Soubry, Caroline Lucas, Dawn Butler and Harriet Harman – have written a letter to the Home Secretary Sajid Javid raising concerns that the current draft of the Domestic Abuse Bill "will fail to protect migrant women".
In the letter, the MPs say that migrant women "find it virtually impossible to access protection from the police or doctors for fear they will be reported to the Home Office and detained or even deported" and "are falling through the gaps and further harmed by our current system that treats them as suspects rather than victims". They urge the Home Secretary and the Government to "address the specific needs of migrant women" in the forthcoming Domestic Abuse Bill.
The letter comes alongside the publication of the Joint Parliamentary Committees report on the draft Bill today (14 June), which recommends the Government takes steps to ensure all survivors are protected without discrimination, including access to refuge and welfare and the creation of a firewall between support services and immigration control.
Amnesty International UK – which is campaigning alongside the Step Up Migrant Women coalition for better protections for migrant and BME women victims and survivors of domestic abuse – has welcomed the "timely" intervention.
Karla McLaren, Amnesty Internationals Government and Political Relations Manager, said:
"This is a timely and much needed intervention from a diverse and cross-party group of MPs, many of whom will have supported migrant women in their constituencies who are unable to access protection from abuse because of a system which discriminates against them.

"That system must change, and the government now has an opportunity to act. They must listen to migrant women themselves, to the MPs who signed this letter, and to the Domestic Abuse Bill Committee, who have also been clear.

"The Bill must provide equal protection for all survivors, no matter who they are or where they are from."
Full letter
Dear Home Secretary,
Domestic abuse affects 2 million people – mostly women – every year. As MPs, weve all met constituents whove experienced this violence. Weve heard their devastating stories, weve listened to their needs, and weve vowed to ensure their voices are heard in parliament.
Thats why were compelled to raise our concerns about the draft Domestic Abuse Bill, which, as it currently stands, will fail to protect migrant women from this terrible violence.
We know from meeting people in our surgeries that some of the most vulnerable women experiencing or trying to escape domestic abuse are migrant women.
These women find it virtually impossible to access protection from the police or doctors for fear they will be reported to the Home Office and detained or even deported. These women are unable to find safety in a refuge bed because they have no recourse to public funds. These women are often blocked from securing their immigration status because of a dependence on their abusive partner.
These are the women who are falling through the gaps and further harmed by our current system that treats them as suspects rather than victims. They face a hopeless choice: homelessness, destitution, detention or deportation on the one hand, or returning home to a violent or abusive partner on the other.
The Domestic Abuse Bill is a once-in-a-generation opportunity for our government to ensure all women are offered proper protection, and its the vehicle through which the Government hopes to ratify the Istanbul Convention on preventing violence against women.
But it will fail in these goals if neglects to address the specific needs of migrant women.
We support calls from across the BME, womens and human rights sectors for the Bill to guarantee adequate and equal protection for all survivors of domestic abuse. The Government must take this opportunity to listen to migrant women survivors and ensure the Bill leaves no woman behind.
Signed
Diane Abbott MP, Shadow Home Secretary, Labour Party
Jess Phillips MP, Chair of All Party Group on Domestic Abuse, Labour Party
Nicky Morgan MP, Chair of the Treasury Committee, Conservative Party
Anna Soubry MP, Leader, ChangeUK
Carolyn Harris MP, Shadow Home Office Minister, Labour Party
Heidi Allen MP, Independent
Dawn Butler MP, Shadow Women and Equalities Secretary, Labour Party
Harriet Harman MP, Chair of the Joint Committee on Human Rights, Labour Party
Baroness Burt, Member of the Joint Committee on Draft Domestic Abuse Bill, Liberal Democrat Party
Liz Saville-Roberts MP, Member of the Joint Committee on Draft Domestic Abuse Bill, Plaid Cymru
Diana Johnson MP, Member of the Joint Committee on Draft Domestic Abuse Bill, Labour Party
Alex Norris MP, Member of the Joint Committee on Draft Domestic Abuse Bill, Labour Party
Tom Brake MP, Brexit and International Trade Spokesperson, Liberal Democrat Party
Alistair Carmichael, Liberal Democrat Party
Caroline Lucas MP, Green Party
Stella Creasy MP, Labour Party
Sarah Champion MP, Labour Party
Christine Jardine MP, Work and Pensions Spokesperson, Liberal Democrat Party
Lloyd Russell-Moyle MP, Labour Party
Catherine West MP, Labour Party
Virendra Sharma MP, Labour Party
Kate Green MP, Labour Party